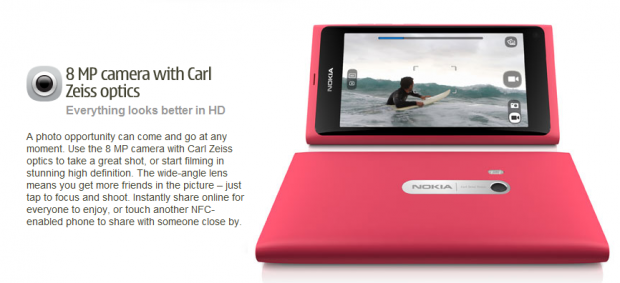 Yesterday, during the iPhone 4S launch event Apple showed its new 8 MP camera with its typical marketing words such as "All new Optics", "Custom lens with five precision elements", "backside illumination sensor", "The you-can't-believe-it's-on-a-phone camera". If you are carried away by those words from Apple, you can read the camera technology in already on sale device Nokia n9. Its obvious that the following technology will also be carried on to upcoming Nokia Windows Phones.
Industry-first imaging sensor which is FULLY optimised for BOTH 16:9 AND 4:3 images
Industry-leading Carl Zeiss optics
Super wide-angle optics – the widest in the industry. Up to as much as 60% more viewing area than other broadly comparable devices
f/2.2 aperture – largest ever in a mobile device and Focal length of 3.77mm / 28mm.
Extremely responsive, especially switching from stills to video and vice-versa and shot to shot
Touch AF for both video and stills
Full time continuous AF in BOTH video and stills plus face detection
HD video with stereo audio (still one of very few devices that provide high quality audio recording in video)
Seamless workflows optimised for speed or editing & sharing
Zoom in to images directly in the post capture view, edit and share all without leaving the camera – the most seamless mobile imaging experience
Non-destructive editing of images – go back to the original image at any time. Undo or redo edits even months later
New high power dual LED flash – 20% more powerful than our previous most powerful LED flash despite its compact size
Geo tagging with place names rather than just co-ordinates
AMBR – Automatic Motion Blur Reduction
Not forgetting the touch to share of images between handsets using NFC technology
You can find more on Nokia N9 camera
here
. For what its worth, the Nokia N8 which was released a year ago still boasts one of the best camera in the smartphone world which was followed by Nokia N9. Sony Ericsson Xperia Arc S also features backside illumination sensor along with wide range of imaging capabilities that iPhone 4S can't do.
I'm excited about the upcoming Nokia Windows Phone and its imaging capabilities. Are you ?