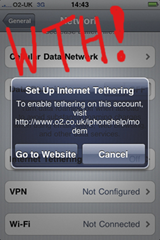 My HTC HD2 has been out of action for the last month, due to a charging issue.  In that time I had the misfortune to get intimately aware of the iPhone and its failings while waiting for my device to get repaired.
Using my wife's iPhone for the last 4 weeks has but confirmed I made the right choice in platform. Throughout the whole period I felt trapped inside Steve Job's vision of how a phone should be used, and his various business deals with the carriers.
My frustration started early in the morning, when I tried to download my daily podcast. From what I could see there was no simple way to schedule the downloading of podcasts using the included software, with Apple clearly intending that I synchronize my device with a desktop every morning (who still does that?).
This resulted in the tedious process of loading iPod, clicking "Get more episodes", being transitioned to the RSS feed for the iTunes app, and then having to click on download and start praying.
The reason I started praying was that the iPhone 3GS could not remain on my WIFI network to save its own life, requiring frequent trips to the settings page to toggle the WIFI, and of course podcasts over 20 MB (that means all of them) could not download over 3G.
Now multiply this for every podcast I want to download, and throw in not being sure of iTunes would continue downloading the podcast while I went into iPod to click "Get more episodes" and you can see how the so called Jesus Phone turned my morning sour very quickly.
Then off to work, where the iPhone turned up being so poor in entering text (compared to a hard keyboard) that I went back to using my aged HTC Kaiser to take notes, carrying both devices and surely looking a bit odd with a bulge in every pocket.
The iPhone also confirmed that the many connectivity issues I thought I had with Windows Mobile over the years had nothing to do with the OS.  The phone would constantly lose the 3G signal, usually when you most wanted to use it, and of course on GPRS you could not pop out of the browser while it downloaded a page in the background and do something else. This was especially true when using the WordPress and Twitter apps, leaving me many times sitting and staring at a loading indicator (which trust me, is much more irritating than the Windows Mobile beach ball) and feeling like I am stuck in the dark ages. Not counting the numerous occasions it would appear I am connected to a cellular network and data just refused to work at all.
The solution was to install Opera Mobile on my trusty Kaiser, which was about the only thing which kept me from killing either myself or the phone.
Running into iPhone limitations when you least expect them remained disheartening, and as usual it was often my Kaiser which saved the day.  A few weeks ago I was out of reach of WIFI and wished to tether my phone. Being in the UK and not under AT&T's iron grip I thought this would be no issue.  No such luck however, as pressing the tether button presented me with a screen asking me to call O2 and add tethering to my plan. Luckily my Kaiser did not force me to take out a whole new data plan just to make use of my tiny 500 MB allowance (curse you Vodafone!) on another device.
One of the most frustrating issues on the iPhone is checking e-mail.  The process is more than tedious, and makes me feel that Jobs must have envied the file explorer on Windows Mobile, because the experience is much the same, with the need to step into and out of folders constantly, making checking 3 accounts a 3 minute versus 10 second affair. Again thankfully my Kaiser preserved my sanity.
Lastly, the much vaunted App store very much resembled a crap store, which promised a lot but delivered little.  Crash Bandicoot racing was difficult to control, the WordPress app could not write a blog post to save its life, the official twitter app could really do with a scroll bar to prevent the mandatory 10 page scrolling when it updates and many of the 10 apps I downloaded were clearly just scams.
To end,  I must admit some things were good on the handset, such as battery life, which easily lasted a whole day, except for the night when I was on call, and the fully charged iPhone I left by my bedside turned out mysteriously dead the next day. Visual voice mail was a treat, especially when my voice mails only turned up the next day, informing me of all the calls I had missed. They keyboard was also buttery smooth, except when it came to entering punctuation characters, where it failed miserably compared to HTC's efforts, and refused to learn the website's name ( no, its not EMPOWER!).  The camera was also passable, except for the missing flash of course. Having to buy a special iPhone car charger did rankle somewhat, but at least they are not that difficult to find.
But now my HTC HD2 is back, and the nightmare is over, and I can wallow as much as  want in the freedom of a truly open OS.  Until Windows Phone 7 of course…