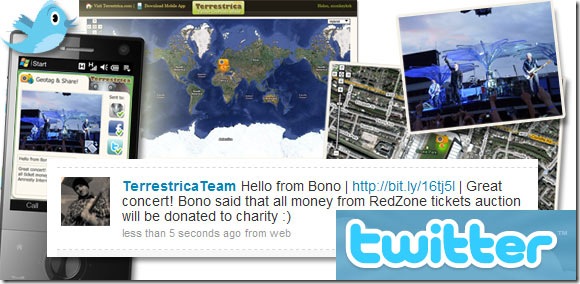 Terrestica Mobile Geotagging software has been updated to allow geo-tagged photos to shared directly to Google's Picassa service or to Twitter.
For Twitter you can send the photo title, description and the shorten link which leads directly to your Twitter Geotagged Album On Terrestrica's servers where you can see that photo and all other photos that you are sharing.   The Terrestrica  page features a  photo album with a map of your geo-tagged pictures.
Sending geotagged photos to Picasa is even simpler.  A new album on Picasa will automatically be created called "Terrestrica GeoTagged Photos" with all your photos sent from the Terrestrica mobile application. In the sidebar, there is a map with location for each photo and many other Picasa options.
There is also a New feature which you can use without any mobile phone or GPS. You can simply use it to geotag and manage your photos with Terrestrica or/and send it to Facebook, Twitter and Picasa.
Also, you can create New location points on Terrestrica directly from your previously uploaded photos.
Read more and download the app at Terrestica here.