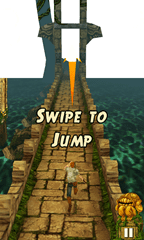 Temple Run was released not long ago and it already has many downloads and even one update because of a live tile bug. Unfortunately I have now  found another bug which seems to appear only when the background of your Windows Phone is set to light.
When set so the game has some graphic errors, for example the background, which should be grey, is white and covers some parts of the HUD of the game.
I personally, and many others of you possibly too, like the white background very much and I think it is very beautiful, and it is very sad that this affects the experience of my favorite Windows Phone game, but I think it's worse that a such long awaited game still is not bug free.
We Windows Phone users are not B-Class smartphone users and we want the same experience as on other devices, and it's not like we want all that for less than on other phones, but unfortunately it seems like the developers don't understand that or just don't want us to be happy with their apps.
Windows Phone is already seen as the third smartphone OS, and even if it doesn't share the same big market share of iOS or Android it wouldn't harm developers to support this platform. Microsoft really needs to catch up on quality control if they want their OS to grow.