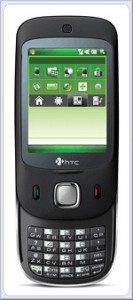 If you like your TouchFlo 2D and old style, Canada's Telus is happy to help you out. They have just released the HTC Touch Dual in its CDMA incarnation on their network. The smartphone is available on the low-low price of $99 on a 3 year contract and comes bundled with Telus Navigator and the Pocket Express on-device application store.
While the Touch Dual is now an older device, it still has a very convenient form factor which is still not available on newer Touch smartphones, and at the low price may be worth the investment.
Readers should however be reminded that Telus will also soon be getting HTC's more recent keyboarded smartphone, in the form of the HTC Touch Pro.
Read more about the smartphone on Telus's website.
Credit: RileyFreeman