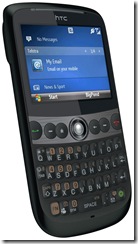 I don't know how sought after the handheld is in Australia, but cant be that unpopular if the Australian carrier bothered enough to seek a 3 month exclusive on the sleek messenger.
The device will be featured on the carrier's 3G network and will come with a push e-mail package for  $40 Australian per month (on top of the $60 line rental) which will also include a 100 Mb per month data package.  While to most of us the pricing may seem extortionate it is apparently competitive with RIM's Blackberry plans on the southern continent.
The good news is that the device seems largely like the Lord and HTC intended, with the large round buttons on the keyboard, trackball and Inner Circle all intact.
Read more at APCMag here.