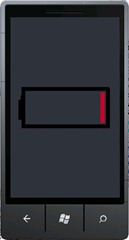 On Chris Walsh's blog we can read more than attempts to jailbreak Windows Phone 7.
He reports on on severe battery issues on the HTC Mozart, apparently brought on by a configuration issue related to the APN used the the device to access the network.
Apparently the issue is so severe the device could last no longer than 6 hours per day without significant use.
He writes:
I've been working with a technician from Telstra for the last 2 weeks debugging the issues.  The root of the cause has come down to the way the Phone is configured to operate on the Next G network.  By default, the phone uses the telstra.wap APN (Access Point Name) to connect you to the interwebs. 

The "issue" isn't one that "we" fully understand at the moment, it could be a configuration issue on the Telstra network or a software configuration change on the device.  But Telstra understand the issue and are actively working to get a fix.

A workaround is available for all those who can't wait for a ROM upgrade.  All you need to do is add an APN in the "mobile network" configuration settings.  The APN is "telstra.iph".
He reports the fix increased battery life from around 6 hours to a much more reasonable 24 hours, with the only negative effect being unable to see the "My Bill" part of the Telstra Portal.
To set the new APN, go to Settings > mobile network.  Scroll right to the bottom and click "add apn".  In the APN box, type "telstra.iph" and click the tick icon in the Application Bar.
Are any of our Australian readers facing this issue, and have this fix worked for you? Let us know below.