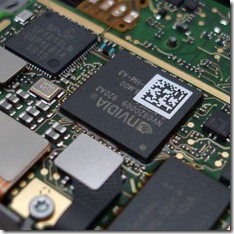 NVIDIA is a company that has recently been taking on some more established mobile processor companies like Qualcomm and others. The original Tegra has however met with only limited success, famously mainly finding a home in the new ZuneHD. They have now pre-announced a new power house processor meant to take on the incumbents. The Tegra 2 is set to have a dual core processor that will double the performance and graphics of its predecessor, the original Tegra chip, and finally bring the ARM processor core up to date.
The chip is currently strongly rumoured for the new Nintendo DS, and of course the company already has a sterling relationships with Microsoft, so we could very well see the processor show up in a Windows Mobile smartphone sooner than later. Certainly we know Windows Mobile 7 will demand a processor at least of the class of the original Tegra, and at the rate the OS ship date is slipping, the chip may be ready around the same time the new OS will be.
Remember, if the stupendous HTC HD2 is only the Star, imagine what the Superstar will be capable of!
Read more at Engadget Mobile here.
WM