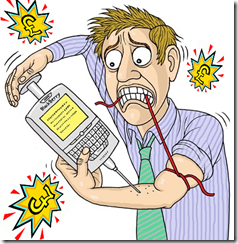 A tax payers revolt is brewing in the Highlands after the Taxpayers Alliance discovered, after a Freedom of Information Request, that local councils were spending hundreds of thousands of pounds on RIM Blackberrys.
Aberdeenshire Council was the worst offender, with more than £117,000 spent on contracts this year.
The total annual bills for Blackberrys and mobile phones rose from £150,000 in 2007 to £261,000 last year and up to £346,000 this year.
Describing the figures as "staggeringly high", the TA complained the gadgets were an unnecessary luxury.
An Aberdeenshire Council spokesman however responded that: "Blackberrys allow us to offer more flexibility to staff who need to respond to e-mails and keep in touch with what's going on, without having to travel large distances back to an office. They are an invaluable tool in a modern business environment."
Susie Squire, of the Taxpayers' Alliance, was unimpressed.
"They're out of touch with economic reality," she said. "These Blackberry costs are staggeringly high and will shock and disgust a lot of taxpayers.
An alternative which could lead to significant savings however exists, in the form of Windows Mobile handsets, which in studies have been shown to have a lower total cost of ownership of between 20 to 40%. 
In the current economic climate, and with costs being passed on automatically in increased council fees, tax payers need to be holding their elected representatives accountable for feeding their crackberry habit when better, cheaper alternatives already exist ready to be deployed.
Read more at PressandJournal.co.uk here