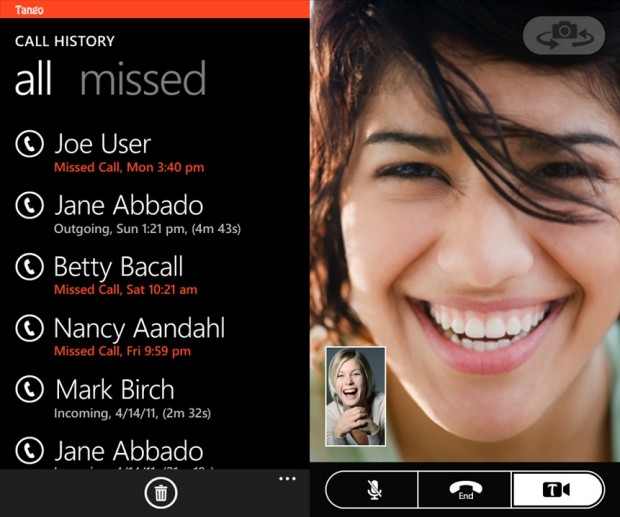 At last, a video chat app for Windows Phone is now live in the marketplace. If you own any of the second generation Windows Phone like Samsung Focus S, HTC Radar, etc,. you may give this app an try until Skype gets released.
App Description:
 Tango allows you to make free phone calls and free video calls over 3G, 4G, and Wi-Fi. Make calls to any other person who has Tango installed on their smartphone, tablet or PC. Start a Tango call with just voice, and easily move into a video call when you have something to share. It's easy to use, it's fun, and it works.

Tango Features:
• Free calls between Windows Phone, Android and iOS phones and tablets, and PCs
• Save money with free international calls to other Tango members
• Start a phone call with Tango and switch to a video call when you have something to show by tapping the camera icon
• We automatically find the friends that already have Tango
• No log in and password – create an account in less than five seconds
• Invite your friends by Text and Email
• Simple and easy to use
It should also be mentioned that the app works on first generation Windows Phones too, letting you share the video from your rear camera.
You can download this free app here.
Thanks Mahi for the tip.