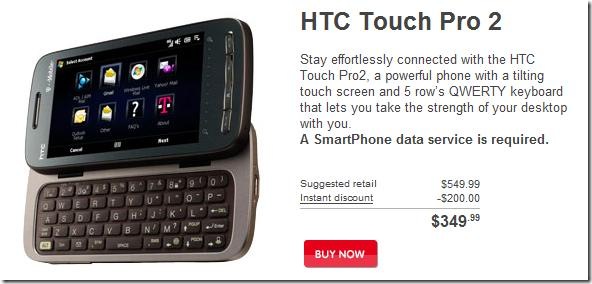 After years of being the US carrier slowest with Windows Mobile devices, T-Mobile has now been the first to release a US version of the HTC Touch Pro 2.
The device is available at a pricy $349 on a two year contract, but T-Mobile's generally lower price plans may ameliorate blow somewhat. While the device has been met with much fanfare in the blogosphere, T-Mobile seems less impressed, with their home page featuring the T-Mobile MyTouch3G and the SideKick, suggesting they do not anticipate the device to be a big seller.
Many other technology sites were however more positive.  They opinions can be found below.
For T-Mobile customers in the WinMo ecosystem, the Touch Pro2 is a dream come true if for no other reason than the fact that it replaces the ancient Wing, a phone that heroically served the retail lineup well past its prime. Beyond that, though, the Touch Pro2 could very well represent the greatest Windows Mobile device available on an American carrier today — even original Touch Pro and Fuze owners have good reason to cast an envious eye in the direction of this thing as it hits shelves today. Don't fret, though; carriers love this phone like they love a high ARPU, and regardless of whom you pledge your allegiance and your monthly payment to, odds are very high it's coming to a lineup near you within a few weeks' time.
Arch-rival Gizmodo was less complementary, and concerned with the high up-front cost:
If you really want this handset, you've probably known so since it was announced, and you shouldn't be deterred by anything except this ridiculous price. The handset is fine. But just know this: for $349, you can have virtually anything else on the market today. Putting the Pro2 at this price point means that every prospective buyer will have to compare it to the Pres, the iPhones, the MyTouch 3Gs, the Heroes (soon), and the BlackBerry Bolds of the world, all of which will cost less, and for most people, offer more, and ask themselves: This? Really?
The good: The HTC Touch Pro2 features a sharp, spacious touch screen and an easy-to-use full QWERTY keyboard. The Windows Mobile smartphone also includes conference call management tools for business users and offers good call quality. It also has 3G support, Wi-Fi, Bluetooth, and GPS.

The bad: The smartphone is heavy and bulky. Onboard memory is low, and we would have liked an upgraded camera. It's a bit pricey.

The bottom line: Though hefty in size and price, the HTC Touch Pro2 offers T-Mobile's business customers a powerful smartphone with robust messaging and voice capabilities, and a slick user interface.
The T-Mobile HTC Touch Pro is definitely a two-handed device and the keyboard really cannot be used with a single hand. That said, it isn't too wide that entering text is uncomfortable, but I still find I am much faster on my T-Mobile G1. I love the layout of the standard keys and think this is just about one of the best large QWERTY keyboards on a phone.

The display is beautiful, however I don't think HTC has optimized their devices for movie playing as the videos I tested were still a bit choppy at times. It is a shame given the display on the Touch Pro2 has amazing resolution.

TouchFLO 3D was pretty responsive, but I did experience some lagging and I hated seeing the spinning beach ball when launching an application. At this time, there really is no reason that these high end phones should lag with the technology and processors we have available.

The display is resistive and HTC has made the targets a bit larger to make the experience closer to capacitive, but it still can't compare to the displays found on the Pre, Google Android, and iPhone devices. Again, people are expecting response from touch displays like we see on these devices and may be disappointed with the Touch Pro2 display response.

You can multitask with the Touch Pro2 and this is something that should appeal to those looking to get a lot done at once. I personally consider myself quite a power user and like to push my devices so the Touch Pro2 does appeal to me on one level. Then again, my usage and needs seem to be changing over time and I am less and less likely to carry a device of this size with me all the time. The new T-Mobile myTouch 3G fits easily into my front pants pocket and gives me much of the same capability at almost half the cost. If I bought the Touch Pro2 I can easily see looking for something trimmer and slimmer to carry around since I don't spend hours and hours trying to be productive with heavy text entry and browsing on a resistive display device with a stylus is just not as fun or easy as a capacitive display device.

Microsoft and Windows Mobile are in need of an overhaul that we won't see in Windows Mobile 6.5. I think HTC is pushing Windows Mobile as far as it can go and Windows Mobile fans may really like the Touch Pro2. However, as time goes by the numbers show there are less and less Windows Mobile fans out there so Microsoft has to pick up the pace or be left behind.
When the HTC Touch Pro2 hit the scene, it instantly became the best business smartphone on T-Mobile's lineup, and one of the best business smartphones you can buy. For the hefty starting price, it better be. But the HTC Touch Pro2 on T-Mobile proves its worth with solid hardware, including our favorite QWERTY keyboard and advanced features all around. The phone excels at calling in ways that business users will certainly appreciate. It will help you make great-sounding calls, with easy conference calling and a best-in-class speakerphone. Even better, it will help organize the information you need to access quickly during that important call. It's not a fun phone, though it is packed with multimedia and fun features. But it lacks the customization options of a Google Android phone like the T-Mobile myTouch 3G, the social network synergy of the Palm Pre or the multimedia prowess of the Apple iPhone 3GS. Still, it trumps those devices with superlative call management as well as better scheduling and productivity features, and it's still easy going enough to play music and videos or casually surf the Web. In other words, the HTC Touch Pro2 takes the best of Window Mobile and hides the rest behind a snazzy and responsive interface that keeps things professional. Release: August 2009. Price: $350.

Pros: Best keyboard on a business smartphone. Excellent call features and call quality. Solid performer all around.

Cons: IM client was buggy. Camera disappointing. Resistive touchscreen still imperfect while scrolling. Dueling Web browsers confusing for users.
Read the full reviews at the respective websites.