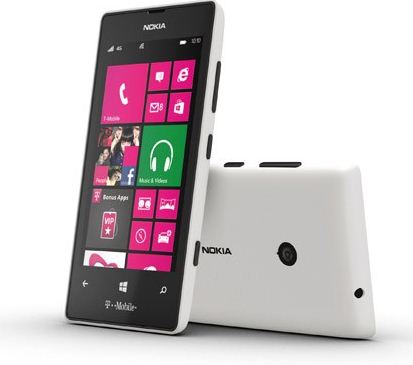 Press Release:
On April 27th, multichannel retailer HSN will introduce T-Mobile's exclusive Nokia Lumia 521 to audiences during its bi-annual Innovation Weekend on HSN, HSN.com and via HSN Mobile.  This will be the first time T-Mobile and a Nokia smartphone will be featured during the special event.  The Windows Phone 8 smartphone will be bundled with a car charger and screen protector for $149.95 with free shipping and handling and a flex pay option will be available.  Please check local listings for specific air times.
Following the HSN debut, the Nokia Lumia 521 will be available at Microsoft Retail Stores and Walmart on May 11.  The Lumia 521 will be $149 at Microsoft Retail Stores.  At Walmart, the Lumia 521 will be available with the retailer's exclusive T-Mobile no contract $30 per month unlimited Web and text plan.
Powered by Windows Phone 8, the Lumia 521, which will run on T-Mobile's fast nationwide 4G network, is a perfect, everyday smartphone that will embody a range of high-end features at an affordable price.  The smartphone features a super sensitive 4" touch screen, 5MP camera with auto focus and 720p HD video recording.  It will also include exclusive Nokia applications such as Nokia Music, Cinemagraph, Creative Studio, Panorama, Smart Shoot and HERE Drive, Maps and Transit.
The Nokia Lumia 521 will be coming to T-Mobile retail channels soon and more details will be shared at a later date.  For more information on the Lumia 521, please visit the media kit.