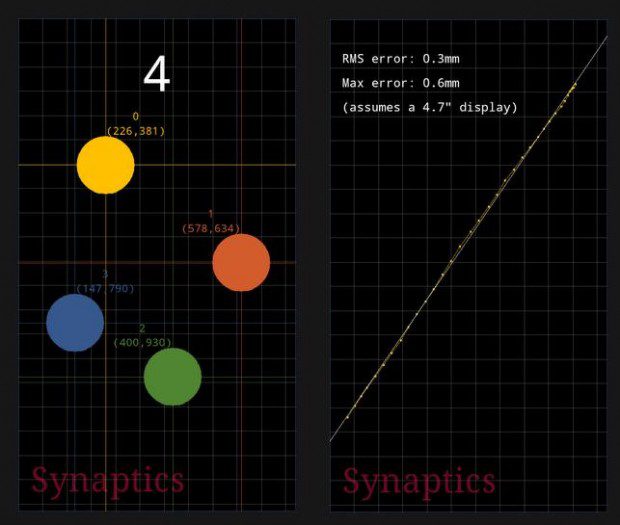 Press Release:
SANTA CLARA, Calif. – Oct. 4, 2012 – Synaptics Inc. (NASDAQ: SYNA), a leading developer of human interface solutions, announced that TouchExplorer is now available for download on Google Play. TouchExplorer is the latest addition to the Synaptics software tool support offering for smartphone designers that are seeking a superior touchscreen experience for their devices. Synaptics leverages market leading system level engineering knowledge and industry standard tests to enable innovative designs that deliver category leading performance.
"Synaptics has added to the industry's best designer tool box," said Tim Bajarin, president at Creative Strategies, Inc. "Synaptics continues to improve smartphone touch performance while enabling designers to cut their design time by eliminating the time and cost of the 'trial and error' method of sensor design."
TouchExplorer is an application that enables touch controller performance demonstration and evaluation on a Windows Phone or Android device. TouchExplorer is an all-in-one, streamlined tool that tests all the basic features of a touch experience – touch points, draw, linearity and motion events. With immediate visual feedback on finger presence and movements on the device, a designer can assess touch performance in real-time.
All finger movements are logged and accessible through the application for further analysis. Users are able to log motion events into an SD card which allows for testing and analysis of touch performance via other software means or at a later date. Free application updates are easily accessible through the Google Play store with the next version, which will be compatible with additional mobile operating systems such as Windows Phone, coming soon.
"Not all touch is created equal and instant feedback on sensor designs helps shorten the design cycle and improve performance," said Jimmy Lin, senior product marketing manager. "Synaptics TouchExplorer is a platform that can objectively test touch performance on all Android and Windows devices, regardless of the touch solution."
Source: Synaptics