Microsoft's Surface line has been on a roll for the past few years, with new devices like the Surface 3 family, Surface Pro 4 and Surface Book being received to wide critical and commercial acclaim. With the new Surface Studio, Microsoft sets its sights on a new category of devices – the All-in-One PC with a "Surface" twist.
The Surface Studio has been reviewed by Digital Trends, CNET (FYI: Autoplays video), Engadget and The Verge. You can click the blue links to see their full review or scroll down to read our four in one takeaway for the cliff notes version.
Much like a typical Surface, this one is a looker. The sentence, "This is one gorgeous computer."  sums up the critical opinion of the Surface Studio. It isn't simply its minimalistic, understated design, or its aluminum "legs", or even its beautiful screen that make it so, its the combination of all those factors put together that seemingly elevate the device for these reviewers.
When it comes to the display, the praise for the Surface Studio is unanimous. Engadget's Devindra Hardawar  says "Mostly, I appreciate the Surface Studio simply for having a big freaking screen. After spending years writing on ultraportables and reading news apps on smartphones and tablets, I sometimes forget how nice it is to use a large screen where you can have a pile of windows thrown about, or simply view a full-size webpage next to a document for note taking. It might just be me, but I've found that bigger displays simply let me be more creative."
Digital Trends' Matt Smith says that their "Art Director was in love with the display, saying he found it "incredibly clear, the best Windows display [he's] seen." The high pixel density, combined with excellent colour accuracy, makes the Studio eligible for color-critical work right out of the box." The Verge's Tom Warren has, even more, words of praise for the Surface's screen, stating that "It's stunning to look at and it's truly one of the best desktop monitors I've ever used. It makes things feel oddly lifelike because you can't see the pixels — text, videos, and pictures just look great on this thing."
One of Microsoft's strong points with their Surface devices (and for the brief period they made them), their Lumia phones has been the quality of the screen. The firm has excelled at pushing out high quality, well calibrated and beautiful screens, and the Surface Studio is clearly no exception.
The internals of the device are powerful and impressive, but their outdated status makes their future-proof status doubtful.
"That's actually some old tech for such a futuristic-looking PC. Microsoft has opted for last year's Intel and Nvidia chips, and its storage isn't all solid state." Tom Warren notes in his review, explaining " This is especially tough to swallow on the GPU front because Nvidia's 2016 Pascal architecture is miles ahead of its predecessors. Intel and Nvidia's latest chips simply weren't ready in time for the Surface Studio, and the storage uses a mix of 128GB SSD with a 2TB hard disk drive. That's disappointing because even a GTX 1060 would have pushed the Studio into VR gaming, something Microsoft is starting to support directly in Windows 10."
Digital Trends' Smith continues that thread "As you can see, the hybrid drive just can't keep up with solid state drives. The Origin Millennium was ten times quicker in read speeds. Even the Avant, which had a humble (by modern standards) SATA-connected SSD, was several times quicker than the Surface Studio. We can see this being an area of definite concern for certain users, as the drive's modest performance could put a crimp on certain workloads. Video editing again seems a prime suspect, as 4K editing can task a drive's write speeds.",
Finally,  Engadget's Hardawar notes "The only major downside is the Studio's slow disk speeds, which stem from its hybrid SSD/mechanical hard drive approach to storage."  Doubts about the future aside, all have positive things to say about its actual performance in the here and now. The Skylake powered Surface, backed with 32GB of RAM helped run apps even as tasking as Photoshop in a "super-responsive" fashion, being able to juggle "dozens of browser tabs, 4K video playback and Minecraft running with high-quality settings all at once without breaking a sweat."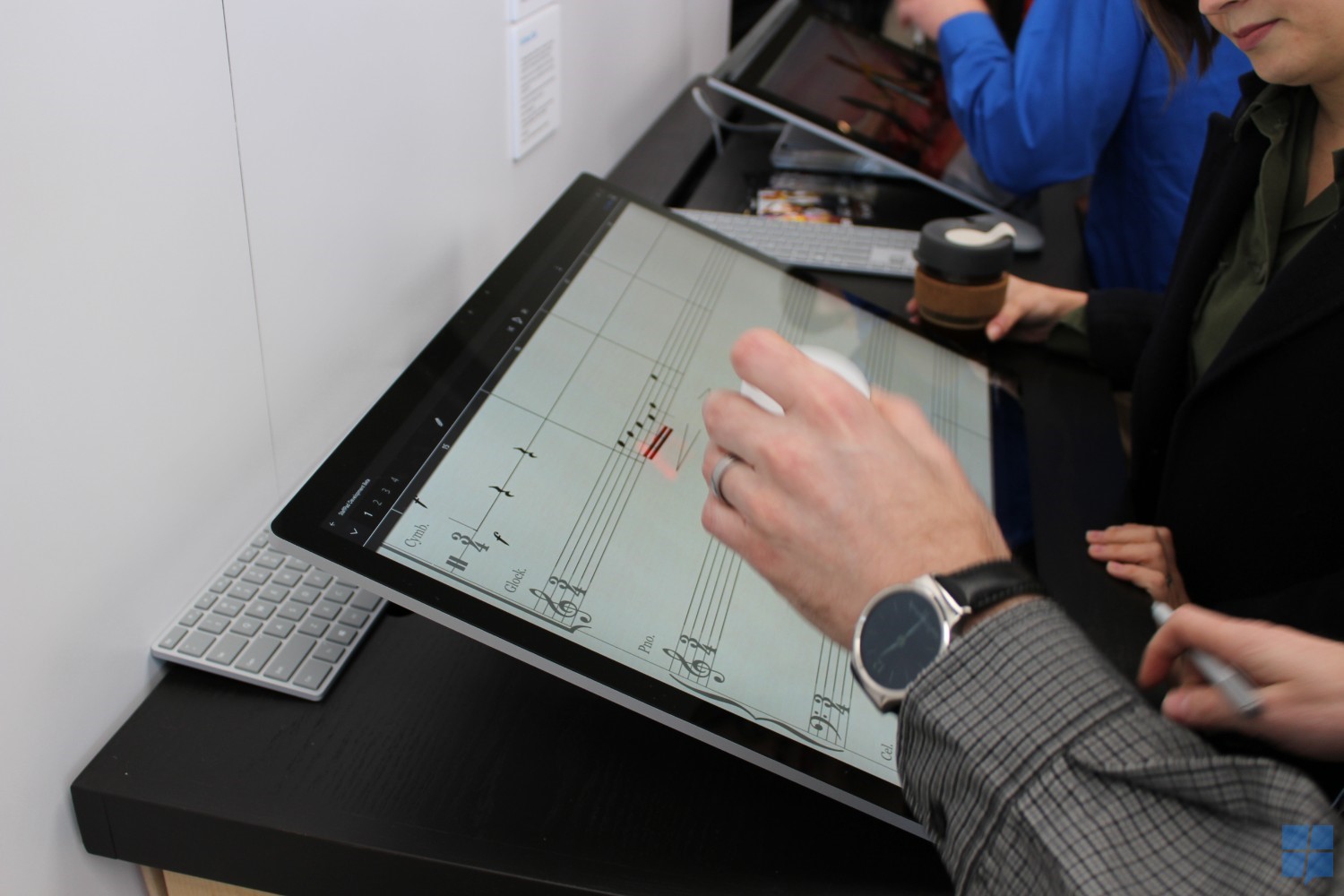 The Surface Dial similarly proved to be both a boon and a bane. Reviewers unanimously panned the peripheral as an "oddity" which was "limited" in scope and application support. Digital Trends' Smith opines "The Dial is a lot of fun to use, but app support is limited, and that may prove to be the biggest problem. It can't do much unless developers get on board. It's also a $100 add-on (pre-orders get it for free), adding even more to the price of this already expensive PC.", a thread which is picked up by The Verge, "There are nearly 20 apps on Microsoft's official list, but even many of those just have basic zoom or scroll controls, or just the ability to adjust the system volume. Impressive Dial support can be found in Sketchable, Drawboard, or Mental Canvas, but I'm disappointed that apps like Photoshop don't have full Dial support. "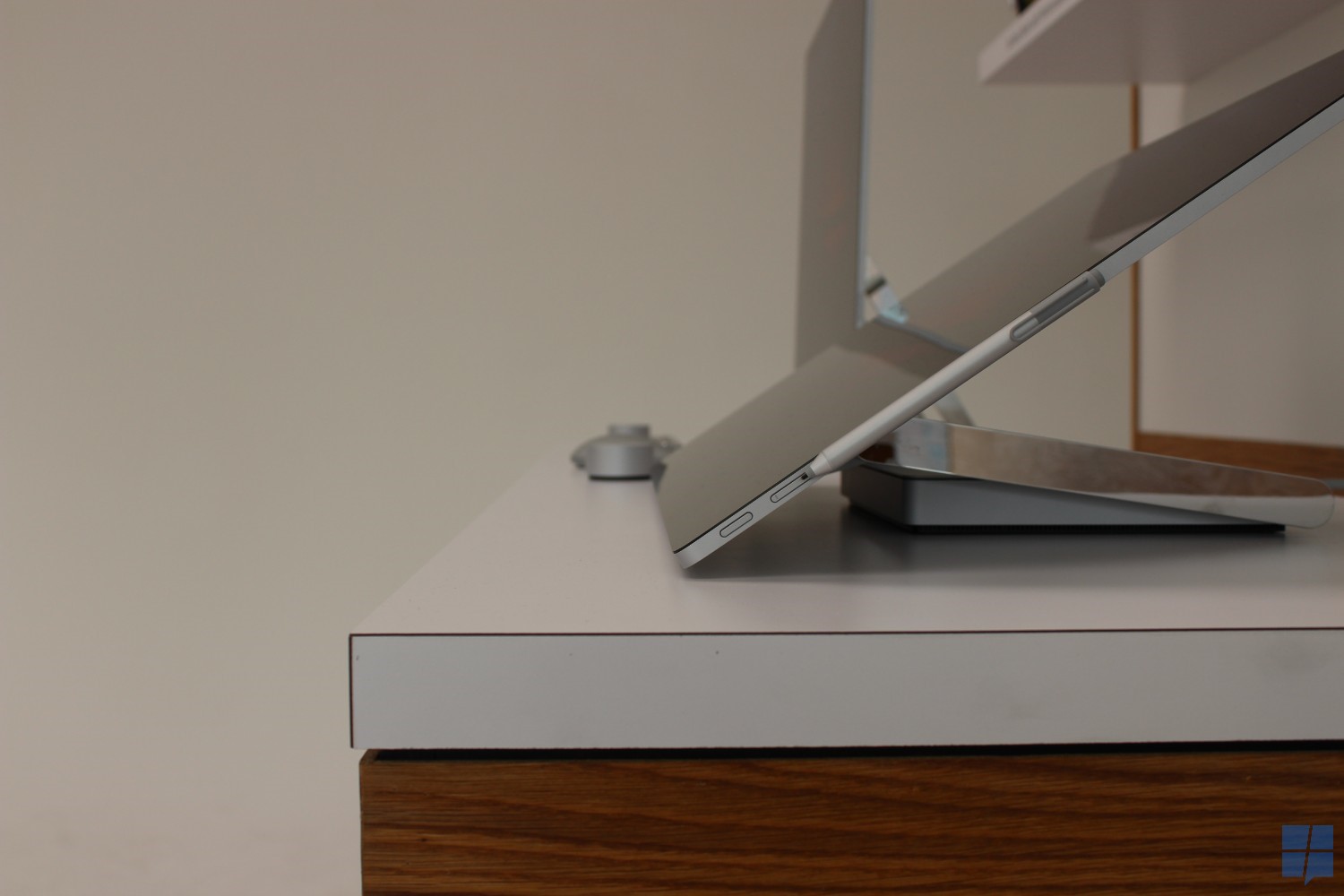 All the talk about the Surface Studio is ultimately unimportant if you aren't the target audience. Microsoft provided a  huge clue by launching it alongside the Windows 10 Creators Update,and demoed it by showing off art focused apps like Sketchable. The Verge and Digital Trends both engaged the services of artists for their reviews to get an artist's perspective of it.
The Verge's invited freelance artist Lawrence Mann to have a go at using the Surface Studio. He produced two pieces and went on to say "What astounds me is how close Microsoft have got their experience to what I have already carefully crafted with pieces from three different companies,[ Cintiq, MacBook Pro, and Surface Book combination]".
Mann thought the accuracy and pen lag seemed comparable to Wacom's Cintiq, but to be fully satisfied with the Studio he'd like to see some improvements elsewhere. He would like to have the ability to rotate the display, along with a more ergonomic stylus, and some extra buttons on the Dial for more than the basic controls.
Mann says the Studio has left him with a "lot to think about" in terms of opening his own wallet. "I can safely say as a professional digital artist looking to upgrade my main device, the Surface Studio is certainly the strongest contender so far"
Meanwhile, Engadget enlisted the software engineer and webcomic creator Alexander Sapountzis as their case study was similarly impressed "On the downside, he noticed that palm rejection was worse than with the iPad Pro, and the software ring around the Dial had the annoying habit of drifting down the screen, even if the Dial was staying in place at the Studio's lowest angle. Both of those issues ended up disrupting his creative flow, which is exactly the opposite of how Microsoft wants people to see the computer.
The Surface Studio also had difficulty recognising when he wanted to move an image around, which often led to unwanted brushstrokes from his fingers. Overall, he was impressed with the Surface Studio's size and form factor, but he wasn't looking to switch anytime soon. As for the issues mentioned, hopefully it's the sort of thing Microsoft could fix with a software update. We've asked the company to comment on whether it's working on any fixes."
You'll note that despite all the downsides, both artists came to a very impressed conclusion. – and this is a common thread among all the reviews. CNet sees the device as a beautiful design with a "fantastic" screen, "excellent" colours, the Verge concluded that it is "something unique and a hint of real innovation we haven't seen for some years with PCs", and Engadget comments that it is a tool which " empowers us to work the way we always have, while also giving us entirely new modes of productivity."
The Surface Studio still comes with some downsides, the Surface Dial isn't standard (much like the Surface Keyboard on the Surface Pros), and app support for it is limited out of the door (though one can expect this to change – at least by a small margin), and it is really, really, expensive. To paraphrase the Digital Trends conclusion, if you end up buying this device – no matter who you are – you'll love it, but unless you're an artist or creative type in that field, you won't truly need it.
Microsoft's Surface Studio ships from next year and you can pre-order it and its accessories from the below links: