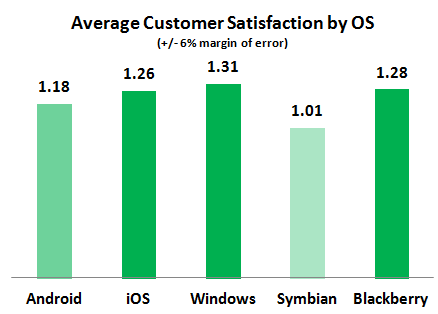 ConsumerThink have analysed 82,620 customer reviews of 318 smart phones published online this year by December 15th 2011 and found that in the comparison Windows Phone 7 did very well.
They note the customer's enthusiasm for Android smart phones and the availability of a large number of models from multiple brands produced very unbalanced distribution of  reviews (75%). 
However, the Android OS enthusiasm did not translate into customer satisfaction lead as Windows phone customers' expectations were exceeded by their experience with a wider margin.
They postulate one of the possible reasons is the relatively weaker support of Android by the developer's community that translates into the availability of applications.
They note that it appears that Nokia's decision to migrate their phones to Window OS is a wise one considering Symbian satisfaction scores.
The study supports what we have seen in numerous carrier online stores, e.g where the HTC Titan scored 100% satisfaction rates.  The short of it is that those who buy Windows Phones love them, something prospective buyers should really consider.
Read much more detail at ConsumerThink here.