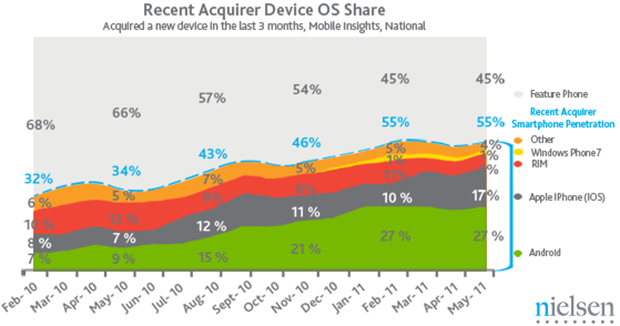 Nielsen has released data of their regular survey of US cell phone buyers and has revealed that the Windows Phone camp still has a lot of work to do.
Since its launch in November in USA Microsoft and the OEMs and carriers have only convinced 1% of buyers to choose Windows Phone 7 handsets.  This translates into about 1% of US subscribers having Windows Phone 7 handsets, likely little more than 1 million users.  This is despite the launch of handsets running the OS on both Verizon and Sprint.
The survey also found 55% of buyers were now choosing smartphones vs 45% choosing feature phones, meaning the pool of feature phone users Microsoft has said they wanted to tap is shrinking very rapidly. In short Microsoft will soon only be able to convert new buyers from other smartphone operating systems, requiring at the very least feature parity.
Read more at Nielsen here.