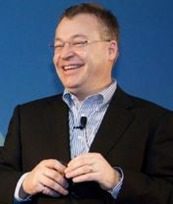 Less we imagine that Stephen Elop was accepting Nokia's current position as minor league smartphone OEM he reminded us via Swedish publication SVD.se that their ambition is a lot greater.
Saying the company will soon regain the top position he said "My goal is that we will eventually be a clear winner. We are having to win."
He said he intended to re-ignite the brand again as the phone everyone wants, and to do that with more handsets like the Nokia Lumia 920.
"It will happen when we get more products Lumia 920. It is a product that stands for something that the consumer wants to be. It is different and more and more consumers say 'I love it.'" he said.
He noted that it has been a struggle, but the company was now seeing results:
"It has been a challenge in which the company has gone through major changes. Now we are beginning to see the fruits of our labor. I'm very pleased with how we have created products that stand out because of our mapping services and our technology for image processing."
Do our readers think Nokia is full of unjustified bravado, or does the second largest phone OEM in the world have a chance? Let us know below.
Thanks Hoang and Joseph for the tip.