Update: And it's been officially announced! Spyro Reignited Trilogy will hit Xbox One on September 21. You can pre-order it from the Microsoft Store for $39.99.
---
Original: Amazon truly is the gift that keeps on giving. This time the online retailer has leaked the Spyro Reignited Trilogy. This doesn't come as much of a surprise as the existence of a remastered Spyro game has been teased recently in the form of purple dragon eggs being sent out to the media.
What's interesting about the Amazon listing on the retailer's Indian website is that it lists an Xbox One version of the game. When Activision published Crash Bandicoot N. Sane Trilogy it was originally a console exclusive on PlayStation 4. Though the listing below does not reveal an Xbox One release date, so we can't rule out of it is a timed exclusive on Sony's platform or not, it does indicate that it will makes its way to Microsoft's system.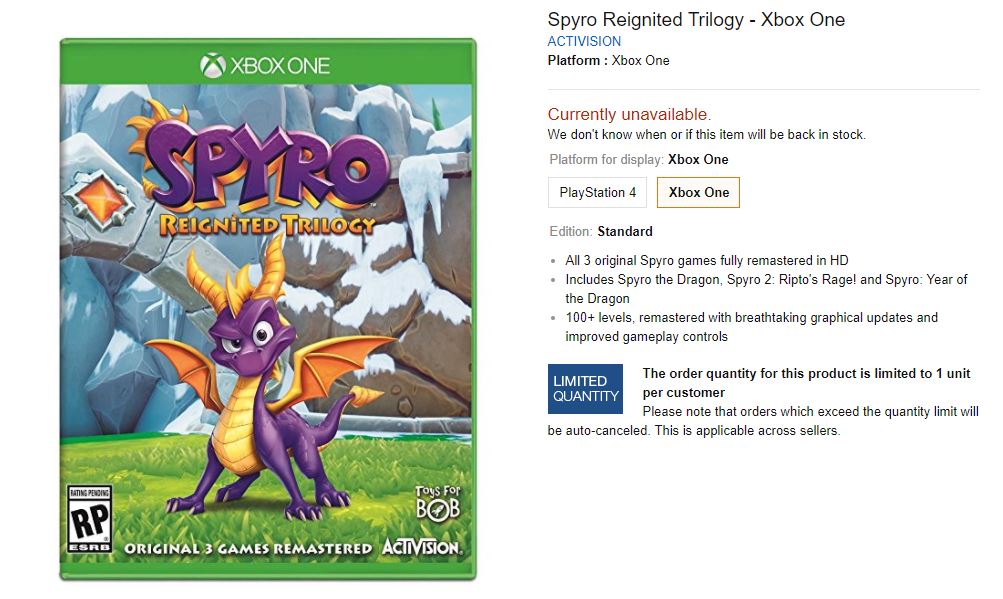 The listing reveals that all three original Spyro games will be fully remastered in HD. These include Spyro the Dragon, Spyro 2: Ripto's Rage!, and Spyro: Year of the Dragon. According to its PS4 listing on Amazon Mexico, it is due out for that system on September 21, provided that isn't a placeholder date. A September release would however coincide with the series' 20th anniversary.
People are expecting an official reveal from Activision sometime today, so we'll update this with more information once it is available. Until then, you can view some of Spyro Reignited Trilogy's leaked screenshots below.
Gallery
Via: @Nibellion