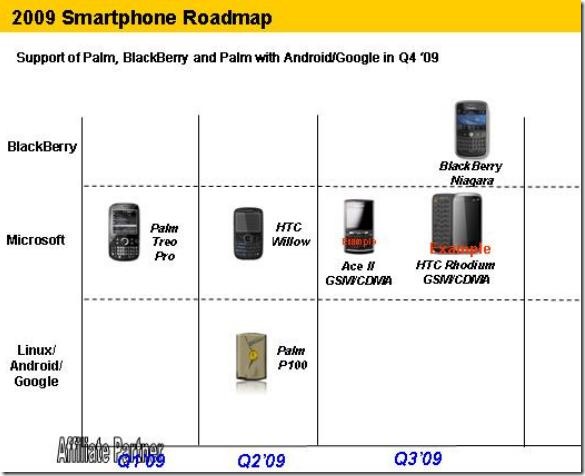 PhoneNews has leaked some slides which more or less depicts most of Sprint's 2009 line-up, and some of the devices are rather amazing.
Of course some are boring, like the Palm Treo Pro (already launched) or the HTC Cedar/Willow, coming next quarter, but some, like the HTC Rhodium, is simply amazing.
The Rhodium is not exactly the HTC Touch Pro 2.  The screen is 3.4 inches instead of 3.6, and it packs both EVDO and HSDPA, and most interestingly, has Windows (mobile) 7 penciled in.  Its due to drop in Q4, ad we know its going to be a long wait.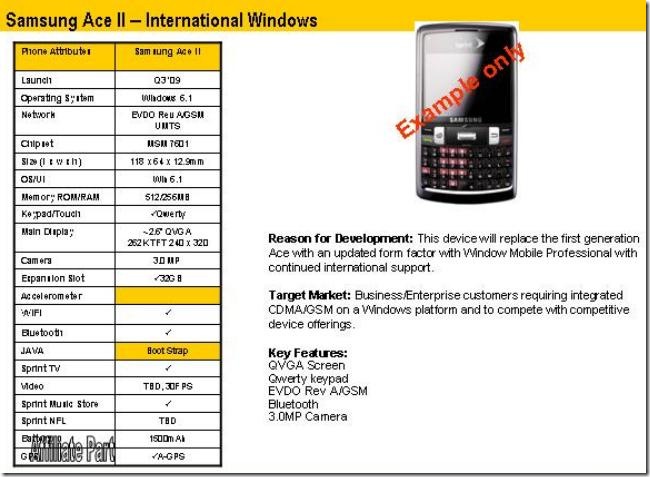 The Samsung Ace II is less exciting, but is still a dual CDMA/ UMTS device with Windows Mobile 6.1 Professional instead of Standard, and this one is due to drop in Q3.
As mentioned earlier, the HTC Cedar brings up the rear, and brings nothing more exciting than a low price, lacking even WIFI, but as it will be dropping very soon may just be what recession-laden Sprint customers are asking for.
See more of Sprint's lineup at Phonenews.com