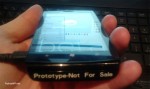 Techradar has spoken to Sony and has confirmed the company is considering a Windows Phone handset.
"We don't want to be a single OS manufacturer, I don't think it's a viable position in the long term," Pierre Perron, head of Sony Mobile Europe told them.
"We are continuing our discussions with other partners, including Microsoft, as part of our partnership with this company on the broader Sony spectrum.
When asked why the company was looking beyond Android when they were finally starting to get some traction there, Perron said:
"We enjoy very much a good collaboration with Google, we've been working with them for a long time and have a level of maturity with that discussion, that's good. But at the same time, Google has a relationship with direct competitors."
"[Working with Microsoft] is an interesting proposition for us in the PC environment, and we continue our engagement with them.
"We are exploring this as part of our discussion in mobile space too. One thing is using the platform [Windows Phone] itself, and another is 'what can we deliver on top of it'?"
The statement reveals that Sony understands that simply releasing a bog standard Windows Phone handset is unlikely to result in significant sales, and that to compete with Nokia they need to bring something significant to the table.
He confirmed that talks were tentative at present, though other rumours have suggested the company was already starting a small production run of a few thousand handsets.
Perron declined to give a specific date on when we might see a Windows Phone.