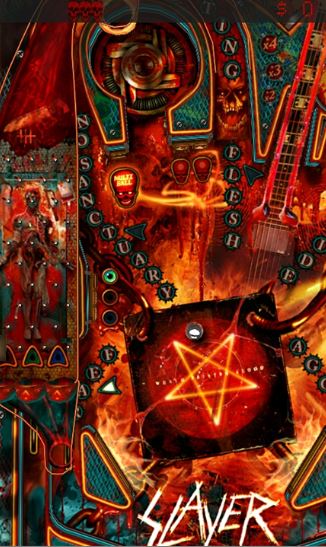 Sony Music Entertainment has released their Slayer Pinball Game in Windows Phone Store. The following game description is from iTunes App Store since Windows Phone store does not contain any app description of this game.
Game Description:
Legends of metal meet the king of arcade games in one loud, fast, flipper-thrashing frenzy. Hyper-realistic pinball gameplay set to a backdrop inspired by the band's latest head-banging masterpiece, World Painted Blood. Includes music from the new album, original voice recordings from singer/bassist Tom Araya, guitar shredding mini-games, and a pinball environment straight out of your worst nightmare. Co-produced by Sony Music and Gameprom (makers of The Deep, Wild West, Jungle Pinball, and Pinball HD). Play it LOUD!

– Hyper-realistic physics engine
– Extreme detail and original artwork
– Multiple camera angles: including 3D-perspective, full-table, smart-cam
– Horizontal and vertical gameplay
– Multi-ball
– Featuring music from World Painted Blood
– Original voiceovers from Slayer
– Rhythm mini-games

Note: horizontal gameplay and HD graphics only available on the iPad
This game costs $2.99 with no free trial available. Download it here from the Windows Phone Store.
via: mobilitydigest