Before I went on vacation I contacted Slacker radio's PR reps and I said I would like to do a review for their product. Three weeks later it seems about time that I get going with the review and after the review is over I will be doing a giveaway, so look out for that.
Slacker radio, the one stop shop for all the different type of music you want and for a great price, let us start the review.
Price:
Having the best music at all time includes paying a little, but actually with Pandora and Slacker… That is not needed. Allowing users to choose either paying or going every couple of songs with an advert is what Slacker and others have done, and in this review we are talking paid service. The Radio Plus service slacker offers gives some great features over the free services for example:
Slacker Radio Plus:
*Unlimited Skips
*Unlimited Song Requests
*No Audio or Banner Ads
*Complete Lyrics
*Station caching on the Leading Smartphone's
*Over 2 Million Songs
Now to get all these services it would cost you a fairly low price of 4.99 if you pay monthly or 3.99 monthly with a one year subscription. That price means it cost around $47 a year which is significantly more expensive than Pandora's $36 a year. The only good thing about it is… With Pandora you are required to pay the whole year at once, and you cannot choose to pay monthly, but other than that, Slacker is not really a great deal over Pandora.
If I had to pay for this service, I would actually do it. The service is great because that means I always have a fresh song in my ear (even though you might hear the same song twice or more in one day), and I do not have to pay for new CD's. The other good thing about the price is that Slacker is a cross platform service, which means you can use it on multiple devices that have an internet connection, which is good.
Usability:
Paying for a services means you want something you can easily access, and Slacker does a great job of that. This music service, unlike Pandora, has a constantly updated Windows Phone application. The software even has a version for your desktop computer, Android phones, iPhones, and other mobile systems. This means you can access it just about everywhere.
The software for Windows Phone is quite nice and easy to use.
First the log in screen is very simple, easy to read, and loads in about 10 seconds depending on your device speed. From there your in the music catalog, and you can select from over 2 Million songs that are in many different categories for you. Now if you are trying to be a little specific to who you like listing to, then you can easily search and a new station will be created and saved for later.
When your listening to music you have very few buttons but just what you need.
The button on the top right takes you to information, where you can read up on just about everything you might want to know from album information, lyrics, author bio, and a review of the CD the song is from. All this information is taken from the cloud and is loaded with the song, so you do not have to wait to see it. It is also very nicely displayed as you can see in the image above.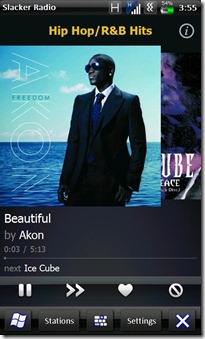 Returning to the now playing menu the same song is playing and other than that, there is not much more to the buttons. There is a dislike and like button. A next button. A button for settings and lastly the station return button to be sent back to the home screen.
All this information is displayed in a way that you do not feel overcome, but you still have all you need. The application has a very nice design to it, and its same through the desktop application, and even the Android counterpart.
At the end of the day, I can say the usability for this software is great and it's very comfortable to use.
Conclude
Since this is a simple application I'll just leave it at that. The software is very nice, and the price is fairly decent. Now I would not pay for this if I had a service like Zune on my device (which I will soon), but it's a great alternative to keep you head banging until that is possible. With all that said, I would recommend this to anyone that like listening to a wide array of music and do not want to constantly pay for full albums.
I will not give software star ratings.
Look out tomorrow, I will be giving away 5 free subscriptions. These subscriptions will last you till a Windows Phone 7 device is available in your retail stores. The winners will send me their emails and I'll have them sent into Slacker for upgrades. I will tell you more on that tomorrow, but for now I hope you're enjoying your slacker life.