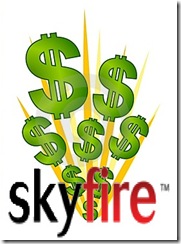 Skyfire, the company who plans to make a business of converting the whole web into a video stream for free has managed to raise another $5 million in funding.
Earlier this Summer they hired former Travelocity executive Jeffrey Glueck to lead the company into the next phase. Now a regulatory filing reveals the startup has raised a Series C closed off its earlier Series B round of funding with an extra $5 million, reports peHUB. The total amount of funding raised by the company now reaches a healthy $22.8 million.
Skyfire's proxy-based browsing model is the only one that currently supports Flash, Silverlight, and a number of other technologies generally reserved for desktop browsers. However concerns remain about the sustainability of its business model, which incurs huge server and bandwidth costs, and may eventually be overtaken as smartphones become more powerful and the web more optimised for mobile devices.
Read more at Techcrunch here.