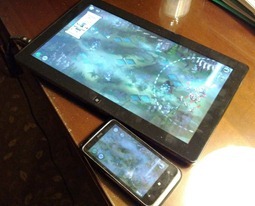 We have been waiting for the Skulls of Shogun game for a while now. The developers of Skulls of Shogun spoke to the Verge and revealed amongst other interesting titbits that their game will feature asynchronous play and also have cross-platform play.
The game will  allow players on different platforms to play with each other wirelessly and over 3G networks.
The developers said that the asynchronous play means a player can start a game on their Xbox 360 and continue it on their phone or tablet, allowing them to play the game anywhere, any time. The turn-based multiplayers allows for up to four players at a time. The cross-platform play also applies to the single player campaign where players can begin a game on one platform and continue it on another.
The strategy game will be available on Xbox LIVE and has been optimised for the Xbox 360, Windows 8 PC, Windows Phone, and Windows 8 tablets. The game supports multi-touch, gamepads, and keyboard/mouse interfaces.
The entire game, which includes a 15-20 hour single player campaign, 20 in-depth levels, 30 multiplayer maps with dedicated two, three, and four player maps. Shadows of Shogun's release is planned to coincide with the launch of Windows 8.
Read more at the Verge here.
Thanks Charles for the tip.