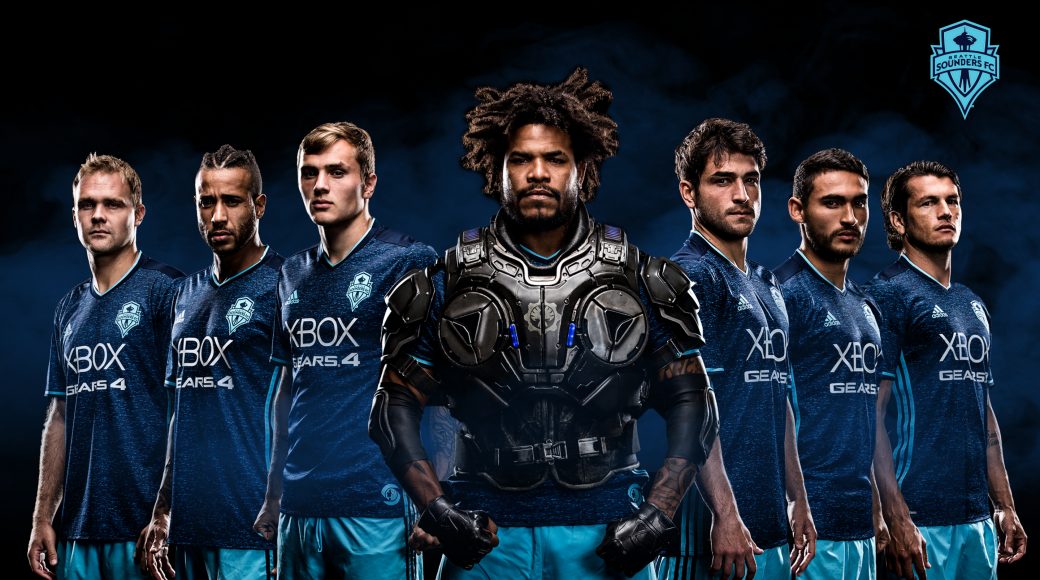 Sunday, October 23rd, the Seattle Sounders will take on the Real Salt Lake at CenturyLink Field to wrap up their regular season. Securing a win will push the Sounders into the MLS playoffs as a No. 4 seed. But hopefully luck is on the team's side as they wear their Pacific blue Xbox 'Gears of War 4' jerseys. This will actually be the second time that the team has worn the jerseys, the first being during a match against the Los Angeles Galaxy on September 25, which the team won 4-2. This will be the second time the team has switched jerseys in support of Microsoft, as the team wore "Halo 5: Guardians" jerseys in October 2015.
Fans who want to nab one of these special jerseys can do so Sunday at CenturyLink Field, though there are expected to only be limited quantities. You can also enter a special sweepstakes via the Sounders website to win an Xbox One S Gears of War 4 Bundle and a Gears 4 Seattle Sounders FC jersey.
"Continuing our collaboration with Xbox to close the regular season wearing 'Gears'-themed jerseys adds a special flair to the game," Sounders FC owner Adrian Hanauer said in a news release. "We certainly hope for a similar result as what came from the premier of the jerseys against the LA Galaxy a few weeks ago."
You can watch the behind the scenes video below which shows the
 photo shoot that the team had to show off the jerseys.