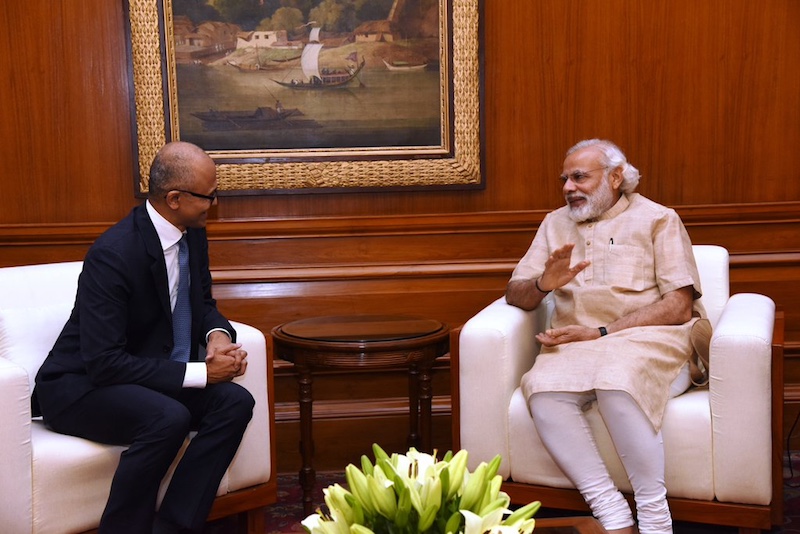 Microsoft CEO Satya Nadella paid a brief visit to India on Monday. He attended an event in New Delhi in which he addressed developers and entrepreneurs in the country, and then he also met India's Prime Minister Narendra Modi to discuss various things.
Nadella and other ministers discussed issues such as IT sector and enhancing partnership for initiatives such as Digital India. It was Mr. Nadella's third visit to India since becoming the CEO of Microsoft.
Narendra Modi posted on Twitter: "Discussed various issues pertaining to the IT sector with @Microsoft CEO @satyanadella @MicrosoftIndia," Modi tweeted after the meeting. Though nobody disclosed the topics that were discussed.
Nadella also talked about his early life, noting that he was largely only passionate about two things: poetry and computer science. "Hazaaron khwaishein aisi, ke har khwaish pe dum nikle. Bohot nikle mere armaan, fir bhi kam nikle," Nadella quoted one of the most popular Urdu verses ever. Here's what that means.
Nadella also reiterated Microsoft's mission. He said, it "is to empower every person and organisation on the planet to achieve more. It's not about celebrating our technologies. It's about celebrating technologies that you all in India create. In fact, I want US to be the platform creators that foster the ingenuity of what is happening in India."
Nadella's visit comes two weeks after Apple CEO Tim Cook paid his maiden visit to India as the chief of the company.