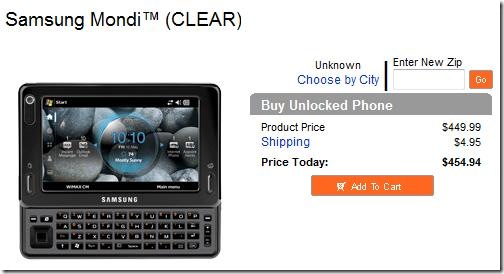 That was fast. The Samsung Mondi has just been announced , and now its already available to purchase.  A relatively cheap $450 unlocked considering the specs, the device still appears priced for early adopters considering it does not make phone calls and the limited WIMAX coverage.
According to SideCutReports a locked version will be available for $349 with a 2 year contract on the 1 August in Clear stores and Best Buy locations in all live Clearwire markets (Baltimore, Portland, Ore., Atlanta and Las Vegas).
Apparently a "refreshed" version is also on its way in a few months which will add native Skype, allowing VOIP phone calls and, with the front facing video camera, possibly video calls.
The Samsung Mondi presents an interesting value proposition, and the specs (below) certainly does not let it down, but one do have to wonder how many buyers the device will ultimately attract.
Samsung Mondiâ"¢ (CLEAR) also includes:
Windows Mobile 6.1 Classic
Microsoft Outlook and Windows Mobile Office
WiMAX Mobile Internet Access
WiFi Access (BTv2.1+EDR)
GPS: Route 66 Navigation with Preloaded Maps
Direct Push/Mobile Email (POP3, IMAP, SMTP)
3.0 Megapixel Camera and Camcorder
Opera 9.5 Web Browser
4GB of Internal Memory
MHDMI TV Out
Bluetooth ® 2.0
DivX® video playback up to 320×240
Included Accessories:
AC Device Charger
micro USB PC Data Cable
3.5mm, 4P headset
Navigation Car Kit
Car Charger
Quick Start Guide
Getting Started Guide
Installation DVD
Navigation QSG