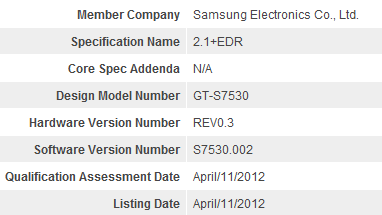 Close watchers of the interwebs would notice that there is increasing momentum building around a new Samsung Windows Phone, the Samsung GT-S7350.
The handset has just popped up on Bluetooth.org, having passed certification a few days earlier. It has also shown up on Lync Interactive's list of Windows hone handsets, running OS 7.10.8773, with would be Windows Phone Tango 1, the same OS running on the Nokia Lumia 610.
In line with that the handset is also likely to be a low cost, low power device, with the handset only scoring 54.1 in WPBench's Speed test, in line with older Generation 1 Windows Phones, rather than 75+ of the second generation Mango handsets.
It is not yet clear where this device will be heading – to China like many other low-cost devices, or the west. It is not believed to the the LTE Samsung Mandel, which would certainly be a lot more powerful. It is more likely the Samsung Minuet rumoured by WPDang a few days ago.
We will be sure to report more on the handset when we know more.