Samsung Ativ S vs Samsung Galaxy S3 - comparison (added subtitles)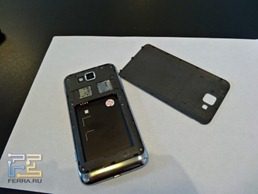 Ferra.ru posted this video of the great Samsung Ativ S, again comparing it to the Samsung Galaxy S3.
Unfortunately we do not understand Russian, and a translation would be appreciated in the comments below.
Ferra.ru did post a review of the hardware, but were not allowed to turn the device on by Samsung, as Microsoft has not launched Windows Phone 8 officially yet.
They confirmed the back is indeed painted plastic and not metal, but noted this was indistinguishable from half a meter, and of course let through those GPS and HSDPA signals without issue.
See their review (as much of it as they were allowed to do) here.
Thanks Relief for the tip.