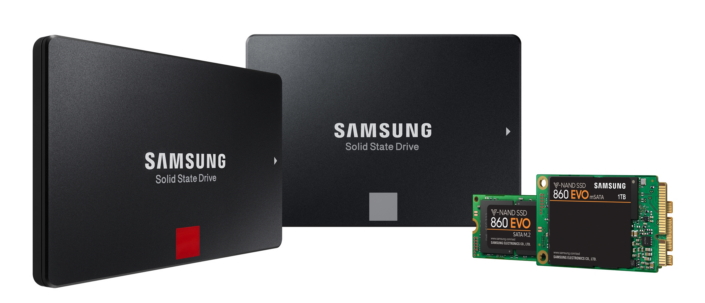 Currently, Samsung's 850 EVO series is the No.1 selling SSD brand in the market. Samsung today announced the next generation high-performance SSDs 860 PRO and 860 EVO as the successors to the popular 850 PRO and 850 EVO SSDs. The new 860 PRO and 860 EVO SSDs combine the latest 512Gb and 256Gb 64-layer V-NAND, up to 4GB LPDDR4 mobile DRAM and a new MJX controller for faster access with the host device.
Samsung claims that these SSDs will support up to 560 MB/s read and 530 MB/s write speeds. And also Samsung is now offering upgraded five-year limited warranty, or up to 4,800 terabytes written (TBW) for the 860 PRO and up to 2,400 TBW for the 860 EVO.
The 860 PRO will be available in 256GB, 512GB, 1TB, 2TB and 4TB capacities. They will be available in a widely compatible 2.5-inch form factor, which is suitable for PCs, laptops, workstations and NAS. The 860 EVO will be coming in 250GB, 500GB, 1TB, 2TB and 4TB capacities, in a 2.5-inch for PCs and laptops, as well as mSATA and M.2 form factors for ultra-slim devices.
The 860 PRO and 860 EVO SSDs will be available starting at $139.99 and $94.99 USD.