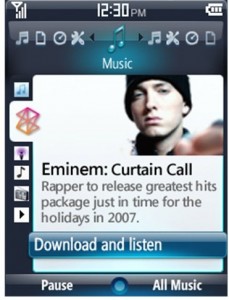 In a recent interview with SFGate Robbie Bach, Microsoft's Entertainment and Devices president re-affirmed their earlier statement that there is no Zune phone on the way, but dropped broad hints that the Zune software and services will be coming to mobile phones from other companies. Of course with Windows Mobile also being overseen by Robbie, its very likely that he is talking about bring the software to the Windows Mobile platform.
When asked about the Zune phone Robbie re-iterated:
"We don't make phones ourselves. We don't have any plans to make phones ourselves. Our focus is on the belief that a phone is a very personal thing. Different people want different types of phones. We think that is going to continue, and we think Windows Mobile is in a great position to service all those different opportunities."
He went on to say that while the portable musicplayer market still has a lot of opportunity, it is really already very saturated, and that music on mobile phones are where the growth areas are.
Robbie further said "We're comfortable making hardware. We're also comfortable just doing software and services. It's been a good business for us for a long time. If we can get into marketplaces where we're focused on the software and services side of the equation, that's fine. We have no problem competing in that space at all."
Zune on Windows Mobile has long been rumoured, and Windows Mobile 7 screenshots which have leaked a few months ago even showed an included Zune client. It is almost certain Zune will come to Windows Mobile, but unfortunately its seems we will have to wait until Windows Mobile 7, which is as much as a year away.  By that time Microsoft may have ceded much of the music-on-mobile market to the iPhone.
Read the full SFGate article here.