Is Copilot the best AI companion out there? Help us find out by answering a couple of quick questions!
Are you looking for an in-depth Revo Uninstaller review?

I've always had a love-hate relationship with software programs. On the one hand, they make our lives easier, but on the other, they often leave behind unwanted leftovers after being uninstalled. These digital remnants can clog up our systems and cause issues, making a proper uninstaller tool essential.
As a software reviewer, I've come across many such tools, including the Revo Uninstaller. In this review, I'll share my personal experience with it and delve into its capabilities, ease of use, pricing, and more.

Overall Rating:

8.5

/10

User Interface

9

/10
Features

9

/10
Performance

8.5

/10
Support

8

/10
Pricing

8

/10

Pros

Cons

Comprehensive uninstallation options
User-friendly interface
Hunter Mode for easy program removal
Supports Microsoft Store app and browser extension removal
Tracing installations for thorough cleanup
30-day free trial

Free version has limited features
No macOS or Linux versions are available

Verdict:

Revo Uninstaller is a versatile and reliable solution for managing software and optimizing your Windows system. While the Pro version adds advanced capabilities, the free edition is a solid choice for most users. Beyond uninstallation, Revo Uninstaller's built-in tools enhance system maintenance, security, and performance. It's a valuable asset, whether you're looking for simplicity or in-depth control.
Revo Uninstaller Installation
Before we dive into the nitty-gritty details of Revo Uninstaller, let's talk about the installation process. After all, you need to get it up and running before you can start using its features. The installation process is a breeze, and I'll walk you through it step by step:
Head over to the official Revo Uninstaller website and 

download the installer

. It's relatively small so it won't take up much space on your system. You'll have the option to download the free version or the pro version. I suggest you download the pro version and utilize its 30-day free trial.

Once the installer is downloaded, run it. You'll be greeted by a straightforward installation wizard.

You'll need to accept the license agreement. Take a moment to read through it if you're so inclined.

Follow the onscreen instructions to complete the installation.

Once the installation is complete, click "Finish," and you're all set!
That's it. You now have Revo Uninstaller installed on your system and ready to work its magic.
Revo Uninstaller Features
Now, let's explore the heart of Revo Uninstaller — the features that set it apart from the built-in Windows tool.
1. The User Interface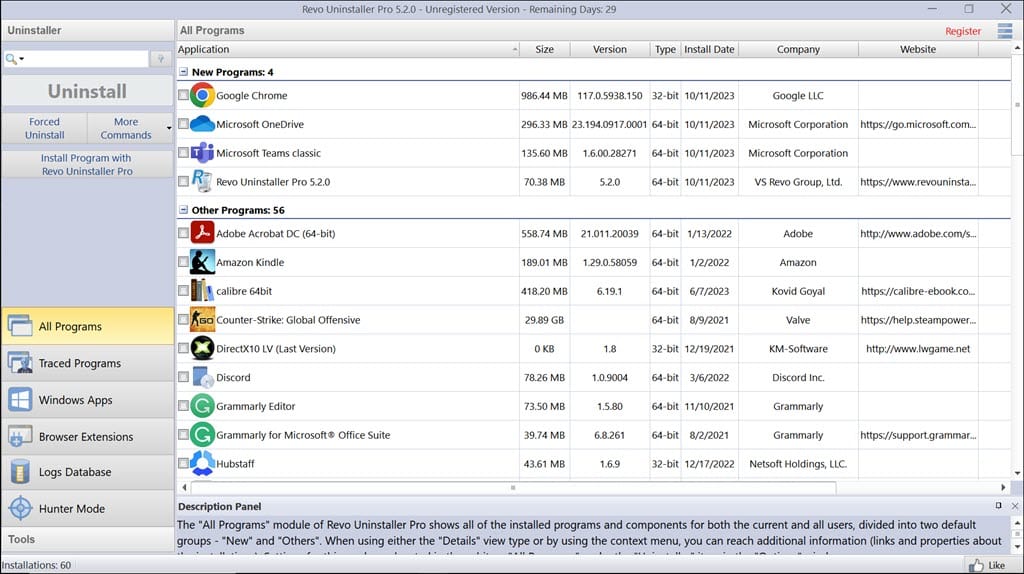 Revo Uninstaller's user interface is user-friendly, sleek, and well-organized. It provides an array of functions at your fingertips, and even if you're not particularly tech-savvy, you'll quickly become familiar with it. On the left pane, you'll see all the features that the uninstaller comes with.
You can easily switch from one section to another without any navigational issues. Among the many uninstallers I've used, the sleek and straightforward UI of Revo Uninstaller remains a standout for me.
2. Revo Uninstaller Hunter Mode
Hunter Mode is a unique and handy feature. It allows you to target and remove applications by dragging a crosshair cursor over their desktop icons or system tray icons. This method provides a visual and intuitive way to uninstall software quickly.
To activate it, follow these simple steps:
Launch Revo Uninstaller.

Switch to the 

Hunter Mode

 section on the left.
A floating crosshair will appear on your desktop.

Simply drag the crosshair over the program you want to uninstall. It gives you the option to Uninstall the program, Kill the process, Stop auto-starting, and more.



3. Uninstall Multiple Programs
Revo Uninstaller doesn't discriminate when it comes to the types of programs it can uninstall. Whether it's a standard application or a stubborn, hard-to-remove piece of software, this tool can handle it.
"Uninstall All Programs" is especially valuable when you need to clean your system or remove multiple programs at once.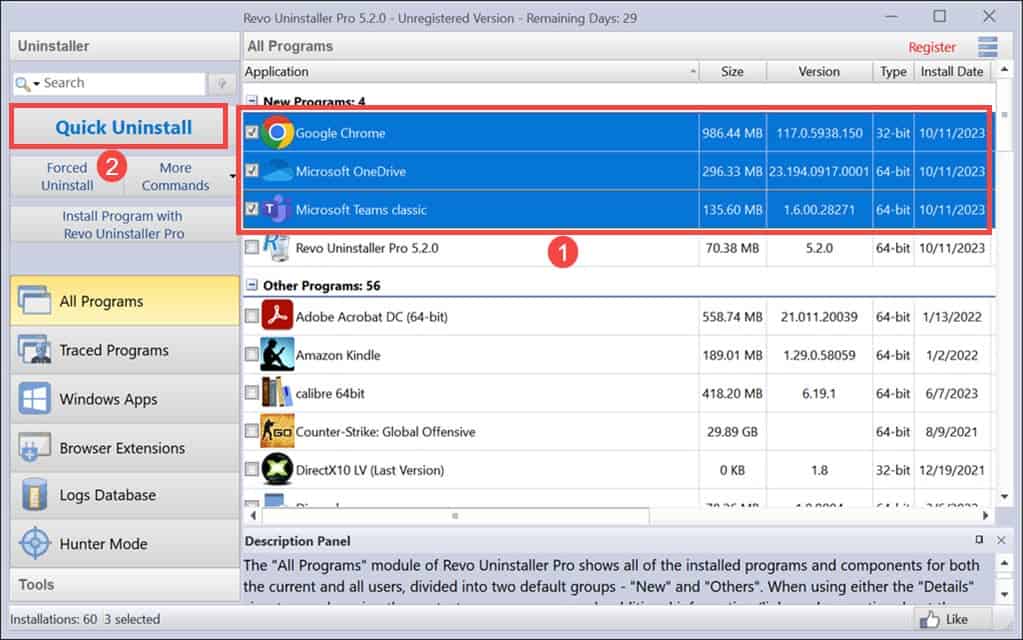 4. Uninstall Windows Apps and Bloatware
With the increasing number of Windows apps, sometimes it's challenging to keep your system clutter-free. Revo Uninstaller offers the ability to remove not only traditional desktop programs but also Microsoft Store apps. I used it to remove Cortana, WMP, and a few other bloatware that I never use.
Simply navigate to the "Windows Apps" section in Revo Uninstaller, select the app, and click Quick Uninstall.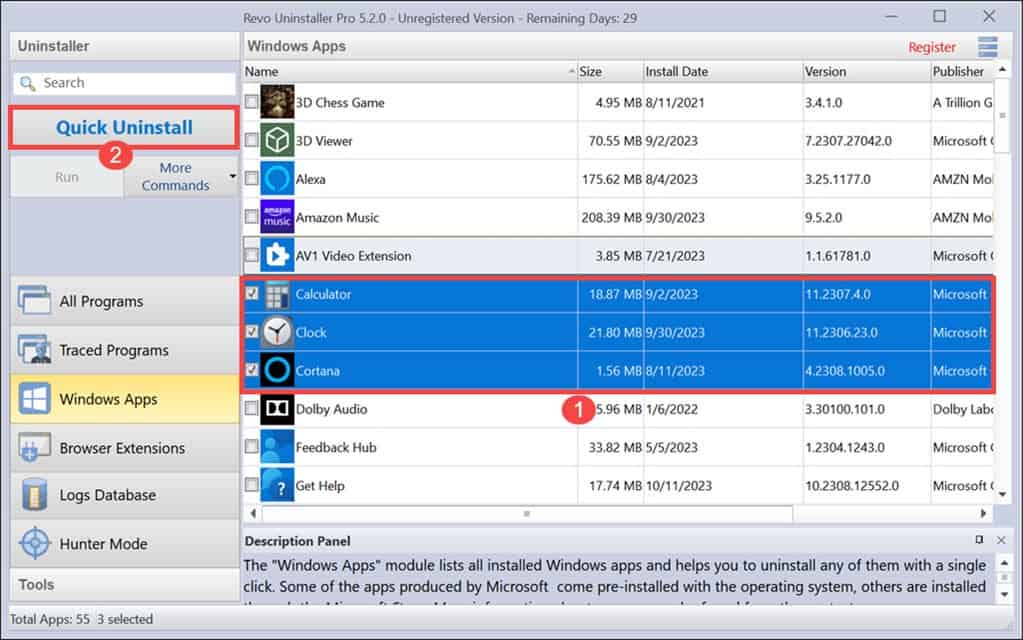 5. Uninstall Browser Extensions and Add-Ons
Unwanted browser extensions can slow down your web browsing experience, and some can even pose security risks. Revo Uninstaller provides a dedicated feature to uninstall Chrome, Firefox, and Edge add-ons.
Simply switch to the Browser Extensions tab, select the extensions to remove, and click the Remove button.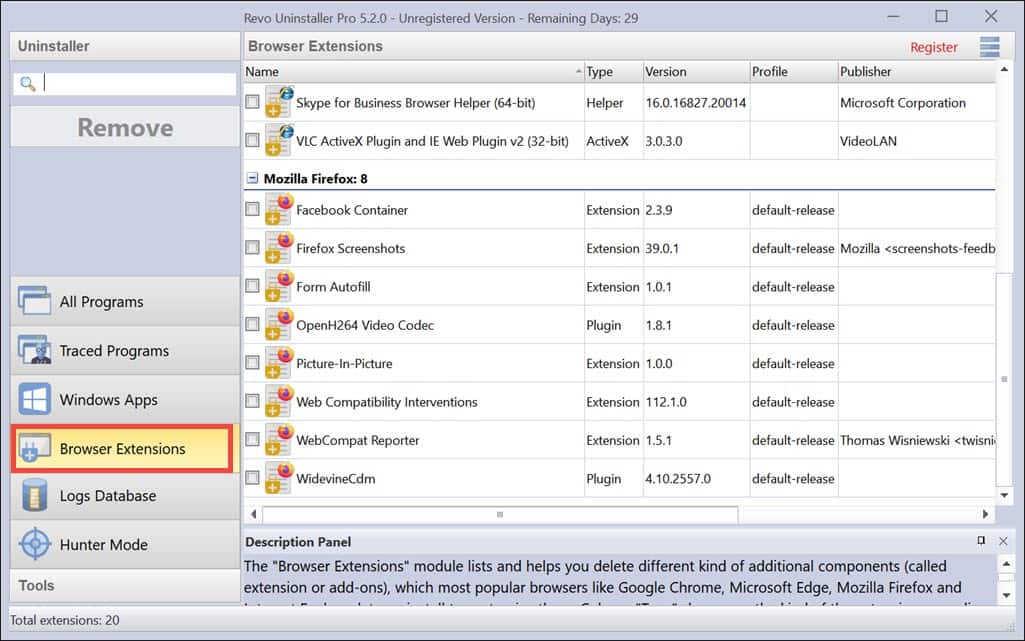 6. Install the Program Via Revo Uninstaller To Trace It
Sometimes, you might want to install and track its changes to your system during installation. This can be beneficial if you're concerned about a program's impact and want to ensure it doesn't leave any unwanted files or registry entries behind.
Here's how it works:
Open Revo Uninstaller and switch to the 

All Programs

 tab.

Click the "

Install Program with Revo Uninstaller Pro

" button.

Browse to the program's installer file and run it.
Revo Uninstaller will monitor the installation process, creating a trace log of all changes made to your system.

Revo Uninstaller Pricing
Now, let's talk about the financial aspect. Revo Uninstaller offers both a free and a Pro version.

Here's a quick overview of the pricing options:
Revo Uninstaller Free: This version is completely free and offers basic uninstallation features. It's suitable for most casual users.
Revo Uninstaller Pro: The Pro version costs around $24.95 per license. It unlocks additional features and is a one-time purchase with free updates and support.
Revo Uninstaller Pro Portable: This is the same as the Pro version but designed to be run directly from a portable device like a USB drive. The price is $29.95 per license.
The Pro version includes advanced features like forced uninstallation, real-time monitoring of system changes, and free professional technical support. You can check it out with the 30-day free trial.
Additional Tools

Revo Uninstaller goes beyond just software uninstallation. It also offers extra tools to help you maintain your system.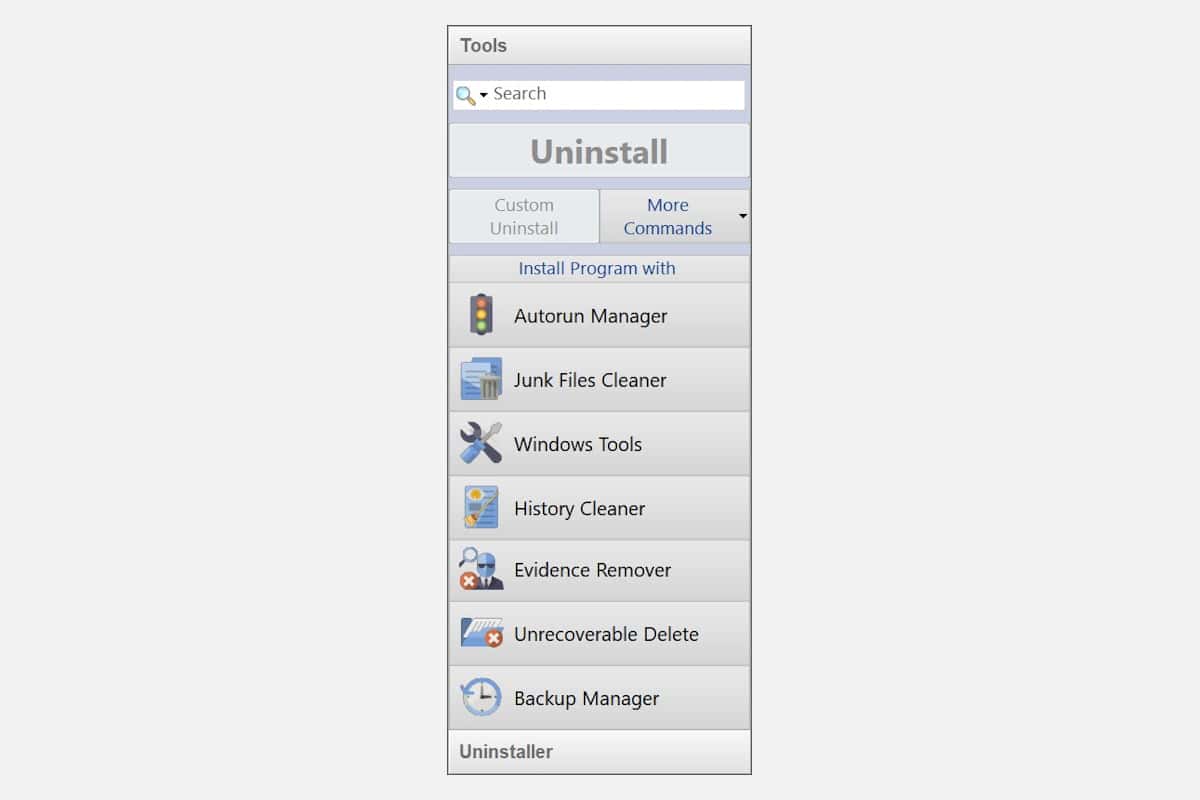 Let's take a closer look:
1. Autorun Manager
The Autorun Manager is a powerful tool that allows you to control which programs and services start automatically when your computer boots up. This is crucial for optimizing your system's startup performance and ensuring that only necessary programs are running in the background.
2. Junk Files Cleaner
Over time, your computer accumulates temporary files, cached data, and other junk files that can take up valuable storage space and slow down your system. Revo Uninstaller's Junk Files Cleaner is designed to help you remove leftovers easily.
3. Run Windows Tool
The Run Windows Tool provides quick access to essential Windows utilities. It simplifies the process of accessing and using these tools to manage and maintain your system.
4. History Cleaner
Your browsing history and other temporary data can accumulate and compromise your privacy. Revo Uninstaller's History Cleaner is designed to help you maintain your online privacy by deleting these traces.
5. Evidence Remover
Sensitive data, such as confidential documents or personal files, can leave traces on your system even after you delete them. The Evidence Remover in Revo Uninstaller is designed to permanently delete these files, making them unrecoverable.
6. Unrecoverable Delete
Sometimes, you might need to delete specific files or folders in a way that ensures they can't be recovered. The Unrecoverable Delete feature in Revo Uninstaller serves this purpose.
7. Backup Manager
System stability and data security often rely on backups. The Backup Manager in Revo Uninstaller allows you to create and manage backups of your critical system files and settings.
Pros and Cons of Revo Uninstaller
Pros:
Efficient Uninstallation: Revo Uninstaller excels at thoroughly removing unwanted programs and traces.
User-Friendly Interface: Its interface is simple and user-friendly, making it accessible to all.
Hunter Mode: The Hunter Mode feature simplifies the uninstallation process.
30-day Free Trial: Unlike other applications that come with limited features, even in the free trial, Revo Uninstaller comes with a 30-day free trial with all features.
Cons:
Pro Version Costs: While the free version is useful, the best features come with a price tag.
Only for Windows: The app is only developed for Windows OS
Is Revo Uninstaller Safe?
One crucial question that often arises when using third-party uninstaller tools is safety. After all, you're giving a program the power to modify or remove files and registry entries on your system. So, is Revo Uninstaller safe to use?
In my experience, Revo Uninstaller is a reputable and secure software. It's been in the market for years and is widely trusted by users. 
On Trustpilot, it's rated 4.7 out of 5.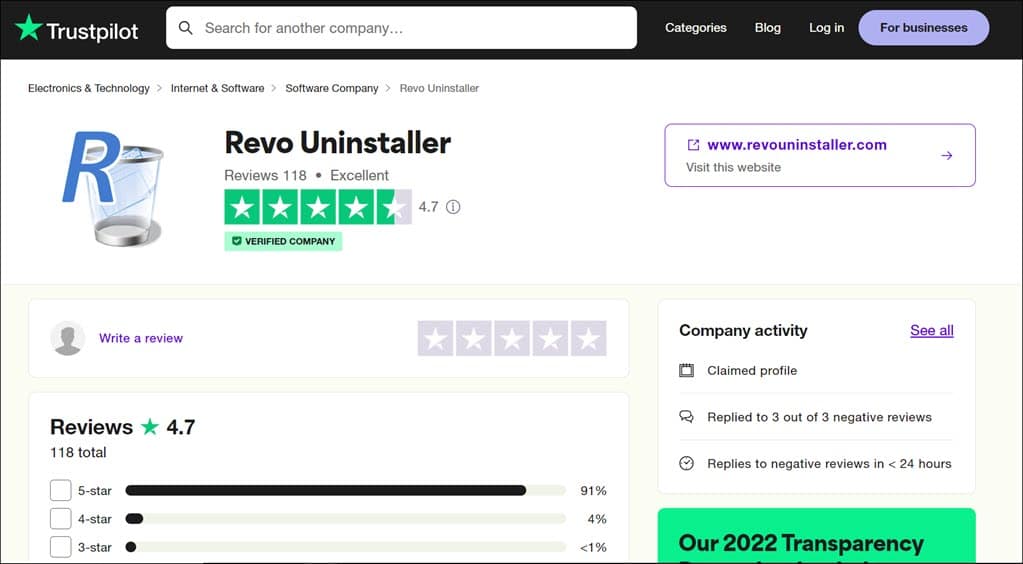 Furthermore, I also scanned the installer file on VirusTotal to check if it contained any hidden malicious files. It was marked safe by all major antimalware engines such as Bitdefender, Avast, Kaspersky, Malwarebytes, and more. In fact, 70 out of 71 engines marked it safe.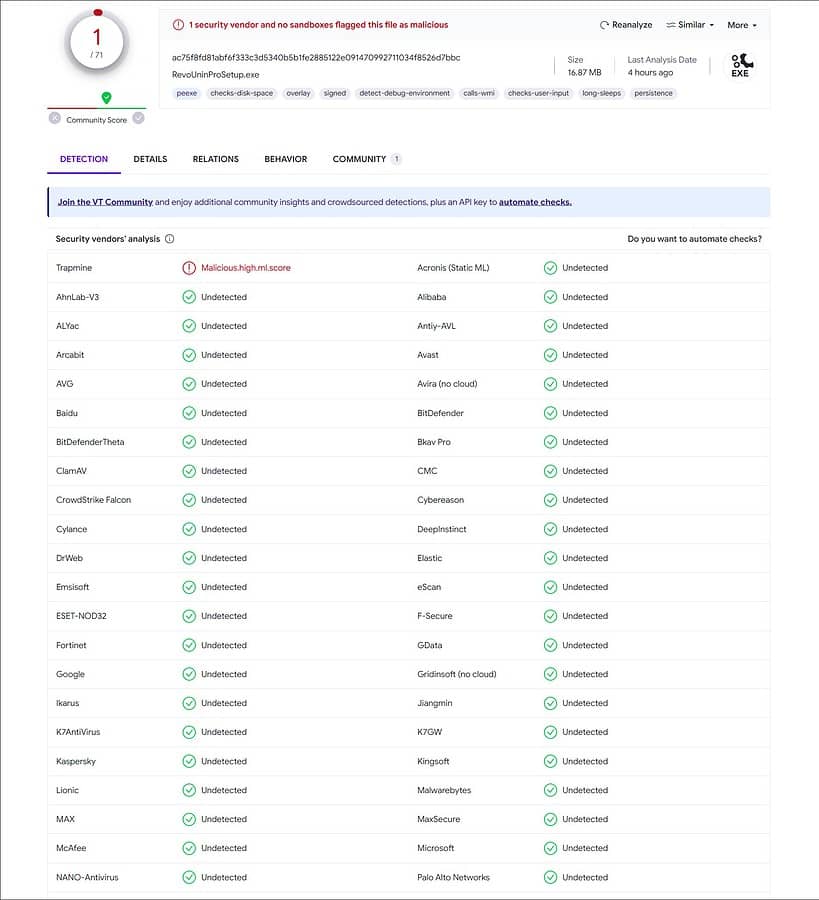 However, like any software that makes system-level changes, it's essential to exercise caution and follow best practices. Remember to always download Revo Uninstaller from the official website to ensure you're getting a legitimate copy.
Revo Uninstaller Alternatives
While Revo Uninstaller is a solid choice for uninstalling software, it's not the only option out there. Here are a few alternatives you might consider:
1. IObit Uninstaller
IObit Uninstaller offers features such as batch uninstallation, a software updater, and a forced uninstall option. The free version is robust, and the Pro version unlocks additional features.
2. Geek Uninstaller
Geek Uninstaller is a lightweight, portable uninstaller that focuses on simplicity and speed. It's a free tool that excels at thoroughly removing programs without leaving any traces.
3. Windows Built-in Uninstaller
Don't forget that Windows comes with its own built-in uninstaller. It's a straightforward tool that can handle most software removal tasks. You can find it in the Control Panel under "Programs and Features."
FAQs
Is Revo Uninstaller available for macOS or Linux?
As of now, Revo Uninstaller is only available for Windows. There are no versions for macOS or Linux. 
Can Revo Uninstaller remove all traces of a program?
Revo Uninstaller is designed to remove as many traces as possible, but it's not foolproof. Some programs may leave behind residual files or registry entries it might not catch. This is why it's always a good idea to create backups and be cautious when removing software.
Is the Pro version of Revo Uninstaller worth it?
If you require advanced features like forced uninstallation or extension remover, the Pro version is a valuable upgrade. For casual users, the free version may suffice.
Final Words
In my experience, Revo Uninstaller is an excellent tool for maintaining a clean and efficient Windows system. Its user-friendly interface, innovative features like Hunter Mode, and the ability to trace program installations set it apart from the built-in Windows uninstaller. While the free version is capable, the Pro version unlocks advanced features that may be worth the investment for power users.
Hopefully, this Revo Uninstaller review will help you make an informed decision. Give it a try and see how it enhances your software management and maintenance efforts!