Ever since the Xbox One X launched, many console gamers have been asking whether they should invest in a traditional television or a gaming monitor. Beforehand, we would say that it was probably worth it to purchase a Samsung or Sony television due to the HDR capabilities and image quality. However, there are many companies out there that are incorporating advanced technology into their monitors. Due to this, certain products should be considered given their price point and features like AMD FreeSync. This review is from the perspective of the average consumer looking to get the best picture quality out there without breaking the bank.
One such device we've tested out for the past few weeks is the ViewSonic XG3220 4K Gaming Monitor. The XG3220 supports native 4K (2160p) resolution, 60 Hz, HDR10, AMD FreeSync, HDMI 2.0, USB 3.0, DisplayPort, comes with a three-year warranty, and includes built-in speakers. This 32-inch monitor can easily replace a television without the need for any additional devices. It's an excellent gaming monitor because it features so many ports important for PC players. We will focus on how it can be beneficial to console gamers.
Before we discuss the significant features, let's discuss the three-year warranty. This is much more than what the average television manufacturer offers because their support ends after a year. Aside from a catastrophic failure, television manufactures don't easily replace issues like dead pixels. We've used countless Sony displays in the past and have always encountered numerous dark spots and dead pixels after the first year or two. The manufacturer has always refused to replace the display or repair it because the problems occurred after the warranty period expired. Luckily, ViewSonic has a lenient display policy and if such an issue occurs over the course of the three years, replacing it should be easy.
Content looks unbelievably gorgeous on the XG3220's 4K panel. This is mostly noticeable on the edges of images and on text. If you're using a 1080p screen, you'll immediately realize the difference. A great comparison of this would be how the iPhone 4's Retina display made everything look incredibly sharp. While it was difficult to tell the difference with images, text was crisp. The XG3220 offers the same leap for your films and games. Colors are also rich because the display features advanced black stabilization so even dark games pop.
High dynamic range (HDR) is somewhat of a mixed bag though. This is mostly because in many games it results in washed-out visuals. The most glaring example of this would be Far Cry 5. Luckily, after some extensive experimentation, we discovered that changing the gamma settings to 2.6 or 2.8 solved this issue. We've experienced the same problem when using the Xbox One X on regular televisions and adjusting similar settings has always fixed it. There's always the option to turn HDR off for problematic titles.
However, certain games like Forza Horizon 3 and Forza Motorsport 7 don't have this issue so we believe it's related to the software. Various developers have their own way of implementing HDR and sometimes it just doesn't work well. A great example of this problem is Nier: Automata on Xbox OneX. In this case, many players choose to turn HDR off in order to avoid the washed-out appearance.
AMD FreeSync is quite possibly the biggest benefit of the ViewSonic monitor. Gameplay looks noticeably smoother and even titles that run at 30 FPS seem more fluid. According to the company, AMD FreeSync puts an end to choppy gameplay and broken frames with fluid, artifact-free performance at virtually any frame rate. The technology enables adaptive synchronization on select displays that support a dynamic refresh rate. This reduces tearing and stuttering caused by misalignment with the content's frame rate. The end result is a smoother presentation to the human eye.
The XG3220 features built-in speakers but they aren't that good. Using a soundbar or dedicated speaker system is advisable because it gives you unparalleled clarity. However, if you don't want to invest in them, the XG3220's speakers are satisfactory. It still would've been great to hear higher quality sound though. Maybe ViewSonic will upgrade them for the refresh.
Another minor issue are the viewing angles. Watching content while you're a few feet away is fine, but if you get up too close, the viewing angles suffer. You have to look at the screen head-on if you want the best picture if you're only a few inches away. Luckily, not many gamers will encounter this problem unless they're using the display as a media center on a desk and there are other people watching it from the sides.
Overall, the XG3220 is a great gaming monitor which has all the features and more that a standard television provides. The input lag is minimal and features like AMD FreeSync push it over the top. While the sound quality from the built-in speakers isn't as great as a set offered by Samsung or Sony, it's still adequate. Had the sound quality been better, this would've been the perfect display for gamers who use an Xbox One X or PlayStation 4 Pro.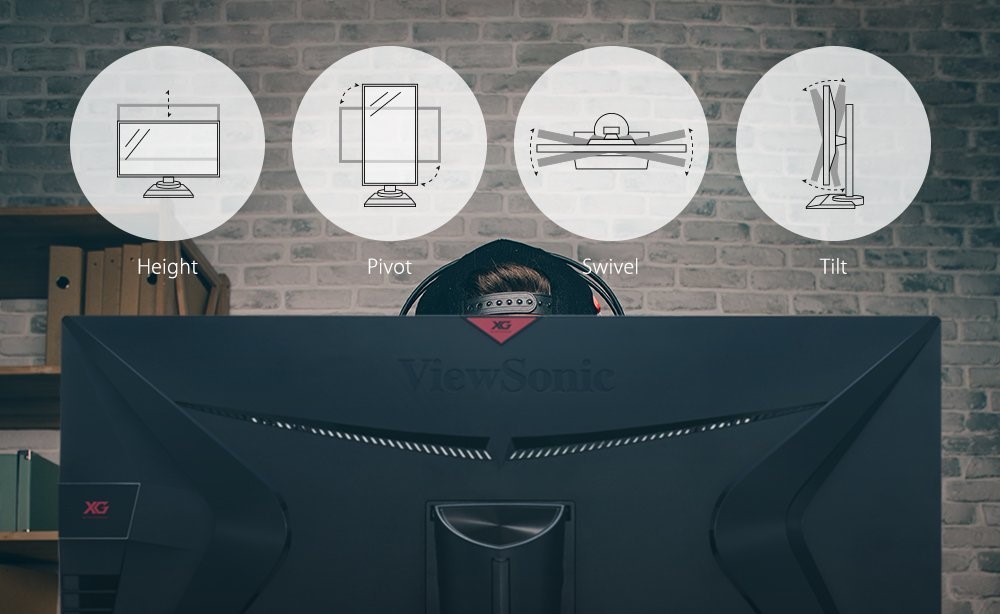 However, we would still recommend this over a traditional television because it offers amazing picture quality and AMD FreeSync which is a game-changer. The 32-inch XG3220 is available for $599.99, but there's a 24-inch model for almost $100 less. If you're in the market for a new display for your refreshed console, then the XG3220 is a great choice. We actually prefer it to a traditional television because you don't have to spend thousands of dollars to get a Samsung QLED set just for AMD FreeSync.
Keep in mind that while the PlayStation 4 Pro offers a native 4K interface, the Xbox One X's menu is still 1080p. This is a curious decision because this means that any television has to constantly adjust between upscaling the menu or displaying a game at 4K resolution. The transition can be quite jarring to witness on Xbox One X. While it's commendable that Microsoft decided to give the extra resources required to render the interface at 4K to developers for games, it impacts the end-user experience because the dashboard is blurry and somewhat hideous. This isn't a problem with the display, but a problem with how Microsoft developed the Xbox One X. Sure, the Xbox One X is much more powerful than the PlayStation 4 Pro, but there's still something magical just looking at a crisp 4K interface that a PlayStation 4 Pro offers compared to the blurry menus on the Xbox One X.
9/10
ViewSonic XG3220 4K Gaming Monitor