Wireless Charging is an essential feature of higher priced Lumia phones, and there are lots of wireless charging devices available. Whether from Nokia or other brands, the only thing you have to watch out for is the Qi compatibility.
This applies to the Nokia DT-601 wireless charging plate. It is a small, Qi compatible, USB wireless charging plate. Together with the Lumia 930, which you will read about in a few days, Microsoft sent it to me for a little review.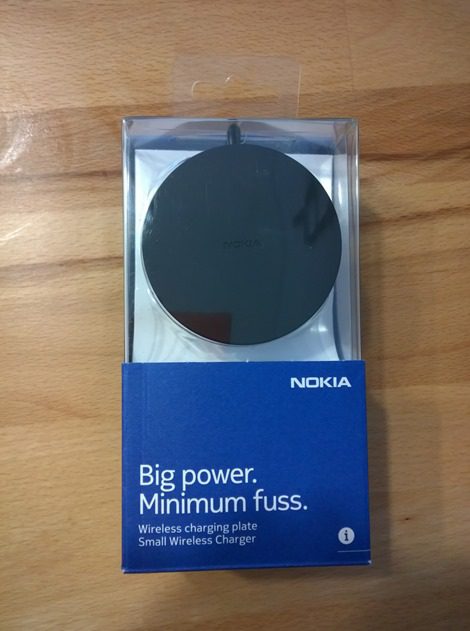 The plate itself is very small and very discreet. On my black desk, the black plate attracts almost no attention. You can also chose a different color, which would be more or less out sticking, but the small and compact look really has it. I like it.
It has a USB plug at the and of the fixed cable, which can be either plugged into a USB device, like a computer, or into the power socket with the power adaptor that's in the box. The adaptor is a simple Nokia AC-60 quick charger.
However, there is one thing that makes this little charger pretty unusable: Unlike the other chargers Nokia offers, this one has a very small surface. This means, the phone needs to be placed exactly on the one of the charger with its coil. During my testing period, when both were only a little bit off from each other, the charger did not charge anything. While I can easily put my phone on the Fatboy wireless charging pillow and just leave the room without caring about it, I always needed to wait and see whether the phone was actually charging. Very often I left the room and came back an hour later to find my phone laying there uncharged. Sometimes, even when I had waited and it had started charging (and I then had left the room), it ended up canceling the process later on since the coils were not transferring the right amount of energy. This was really annoying! I am sure after some while one will get used to it and know how exactly to put the phone on the plate, but in my trial time, it happened way too often that my phone did not charge, although I needed it charged.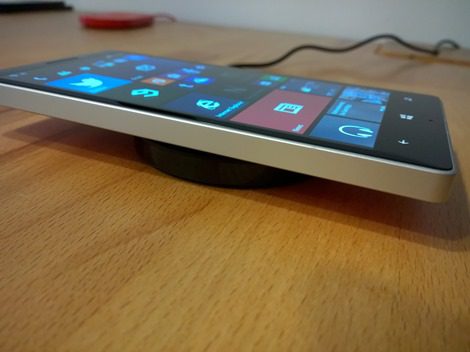 This is not what wireless charging is meant for. It is meant to be a simple, easy and comfortable way of charging the phone: Simply put it on the charger, and don't care. Unfortunately this charger is too small to ensure this kind of comfort – at least for me. I do not want to neatly check how I put my phone on the charger, I simply want to put it there. So because of this, I unfortunately cannot recommend the Nokia DT-601. If someone is always very accurate at these things, this product may eventually be recommended to them, because with its lower price it would be a good alternative to all the other chargers Nokia offers.