Reviewed on Xbox One X
Being put back into the shoes of Just Cause protagonist Rico Rodriguez feels like home to me. The sheer number of hours I've spent grappling and parachuting through the many biomes of the series' second game and wing-suiting my way around the vertical Medici paradise of the third meant that moving to Just Cause 4 was remarkably easy.
Much like a new extension in a house you've lived in for your entire life, Just Cause 4 manages to retain the key fundamentals of what makes Just Cause the explosive, high-octane, action-packed blockbuster it is. Just Cause 4 is the very definition of the series – a beautiful and brilliant physics playground that manages to remain the King of sandbox games. It takes a while to get used to, just like learning to avoid a new corner in your hallway, but once you do you'll appreciate the new additions.
Maybe it's to its detriment that in its fourth entry Avalanche's series still hasn't managed to recapture the perfect storm they had with the release of its second installment, but that doesn't mean that what's here hasn't massively improved on what's come before. It's not that Just Cause 2 is a perfect specimen, it's that Just Cause 3 and 4 just don't feel as remarkable today as the second game did when it released. Nostalgia could be taking over but when I go back to play the second game I get a feeling of pure exhilaration the entire way through. JC4 does manage to capture this feeling, but only just.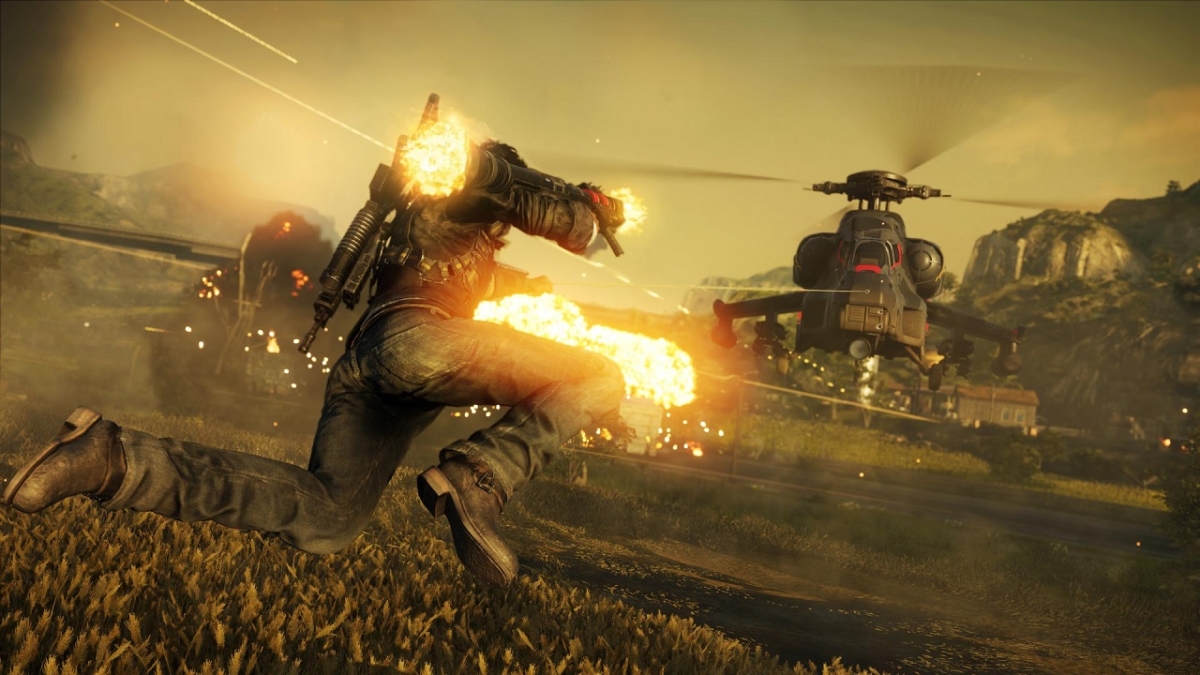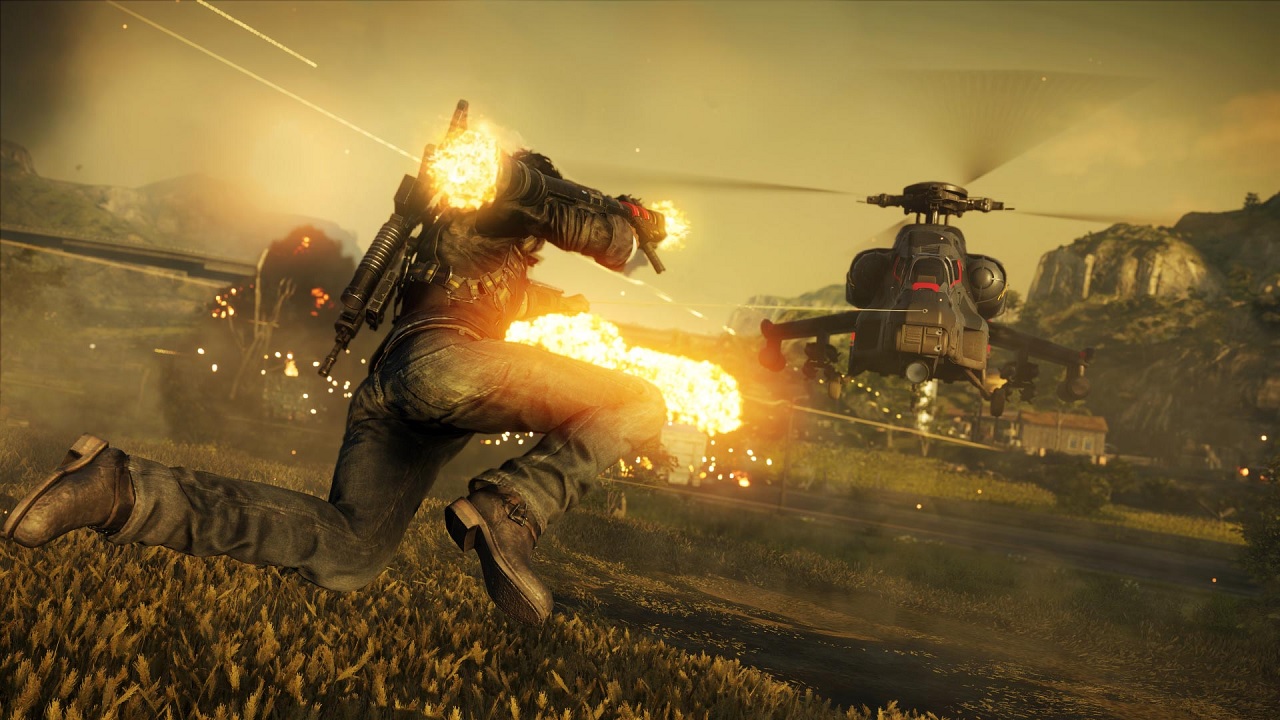 This time around, Rico Rodriguez is on his own mission, much like in three.  After discovering his deceased father was working with a militia known as The Black Hand, Rico travels all the way to the fictional country of Solis, a country prone to extreme weather conditions such as snowstorms, thunderstorms, tornados and more.
A focus on extreme weather is a smart choice, especially considering the series' move towards full player freedom in the form of the game's incredibly enjoyable wingsuit. Unlike before, there are lite barriers that can stop you from seeing everything the game has to offer. They're easily passable if you know what to do, but wing-suiting or flying planes near some of these forces of nature can lead to deadly outcomes.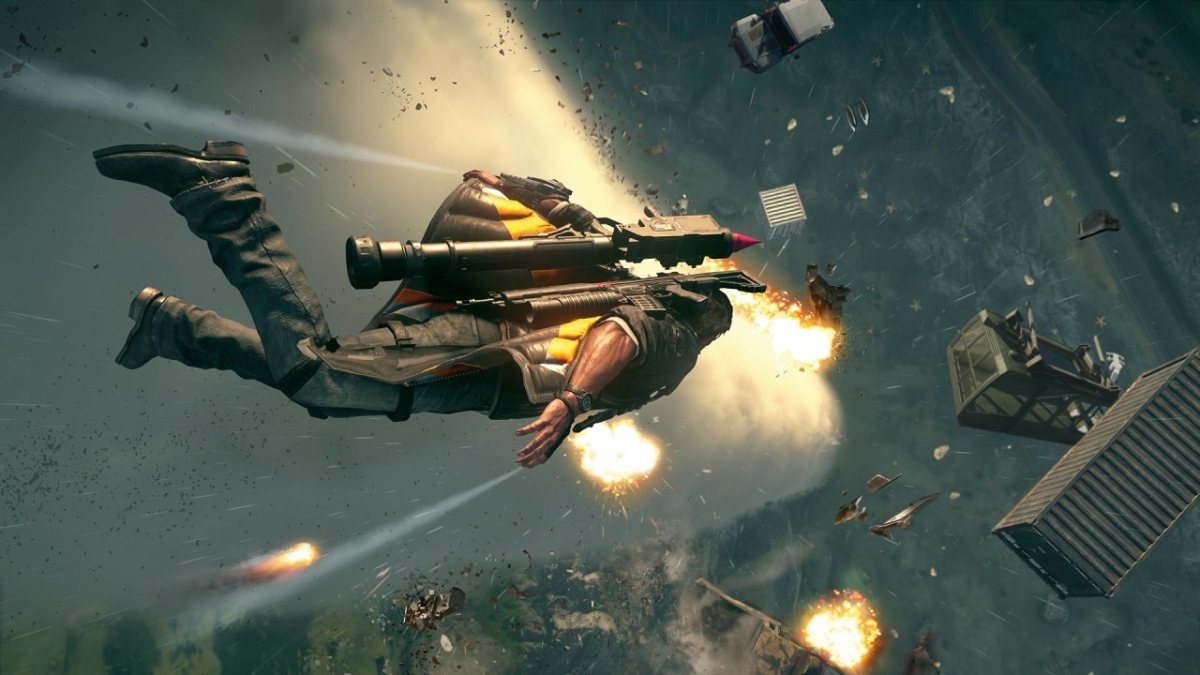 After the arrival of our protagonist, Solis quickly enters a large-scale civil war. (I'm not saying it's Rico's fault… but it definitely 100% is Rico's fault.) As you complete missions you'll be able to push the front line, expanding your territory and allowing more safe space for yourself. Otherwise, just like entering areas with extreme weather, you will be at risk of getting hit by anti-air missiles and other weapons. They're easily avoidable, even when parachuting right through the heart of enemy grounds, but then Rico is essentially a superhero at this point.
Outside of the game's overall structure changing ever-so-slightly enough to feel fresh, Just Cause 4 does see some meaningful additions in every other aspect of its design. AI is smarter, animations are smoother, gunplay feels tighter and performance is leaps and bounds over the third game – everything is improved.
Most impressive of all is the insane tweaking Avalanche has done to Rico's core moveset. While boosters and the like were available to tinker with last time, they now benefit from additional customization that allows you to truly screw with the world. Attaching boosters and balloons with individual settings and triggers can allow you to mess around in some of the craziest ways possible. You can make a flying car that's actually controllable, you can drive an explosive sphere through a town, turn a gas cylinder into a rocket – the possibilities are endless.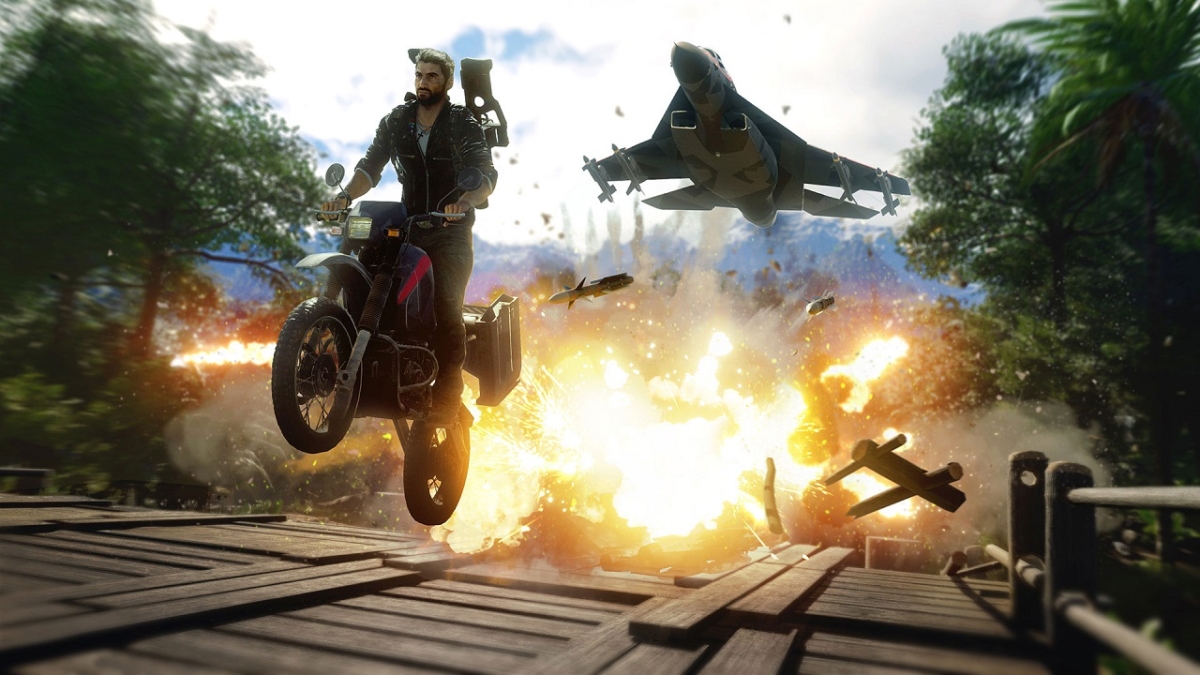 It's a shame then that Just Cause 4 does still feature the same problems that we've been complaining about with every game in this franchise. The narrative never manages to feel engaging, especially not engaging enough to drag you away from the fun you make yourself, and main missions are nowhere near as entertaining as your own screwing around.
Vehicles suffer from the same lack of engagement despite their apparent overhaul in control and purpose. While there are reasons for utilizing vehicles—a lot of missions require you to drive places instead of wing-suiting—they feel worse to control than they ever have in a Just Cause game. Cars lack weight – there's an overall sense of sliminess to every tiny turn that not even the original game had. It's a huge disappointment.
Just Cause 4 returns as the king of open world sandboxes. Even with its losses, there are very few games that feel as fun to play as this. It's ludicrous, insane, bat-shit crazy, and it's what Just Cause 3 should have been.  Mission structure and vehicles still remain remarkably unpolished and barebones two games on from the series' crown jewel, but its forgivable enough once you learn how to make your own fun.
Just Cause 4 Gameplay Trailer - E3 2018
In short, Just Cause 4 is still a mental experience that's as fun as it has ever been – it just doesn't run like a slideshow this time. It's the sort of game I believe everyone should own; you'll always need that game you can put on to vent with unparalleled destruction and creativity. It's brilliant and I adore this almost as much as I love Just Cause 2. Almost.