Since I got my Touch Pro, I found the large Start menu from HTC to be a great improvement over the original one. For some reason though, the start menu is back to normal when you use the device in landscape.
Thankfully, the fix is easy, just follow the steps below:
With a registry editor (Total Commander etc) navigate to the following folder: HKLM\Software\HTC\EnlargeMenu
Change the DisableLandscape value from its current value (1) to 0.
Softreset your device.
The end result is this one: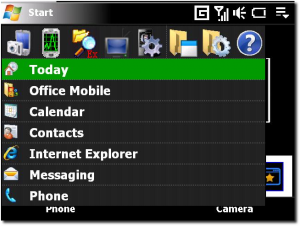 The fix is very easy and really does a difference on a VGA screen, so I highly recommend it.
EDIT: DavidK provided us a cab file that makes the registry edit automatically. Download it from here, unzip the file and install it on your device, softreset.  Thanks DavidK.