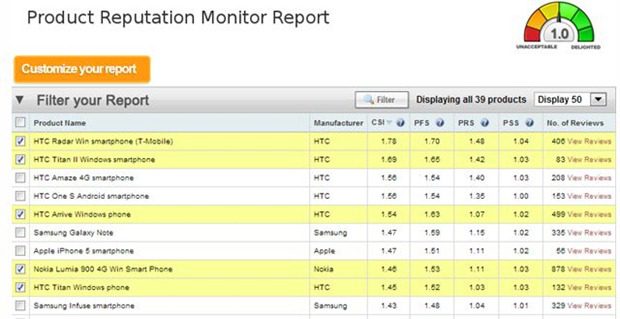 Analyst Gregory Yankelovich at Amplified Analytics published the results of his survey of customer satisfaction of smartphones culled from online reviews, teasing out specific attributes of experience to find to see why buyers liked the phones they bought.
As has become usual Windows Phones scored very well, with the HTC Titan II and HTC Radar taking top spot, and taking 5 out of the 10 spaced in total.
It is notable that Apple's latest iPhone, plagued by chipping paint, purple haze, deadly maps and a screen that is merely stretched scored rather low on the list at 7th position.
"Windows Phone does so well because customers can connect simply and clearly in a way that is easily understood by most users," said Yankelovich. He also said Windows Phone users especially liked Nokia Maps.
The top ten product reputation smartphones according to Amplified Analytics were:
HTC Radar (1.78)
HTC Titan II (1.69)
HTC Amaze 4G (1.56)
HTC One S (1.56)
HTC Arrive Windows Phone (1.54)
Samsung Galaxy Note (1.47)
Apple iPhone 5 (1.47)
Nokia Lumia 900 (1.46)
HTC Titan (1.45)
Samsung Infuse (1.43)
In total, mostly help by Windows Phones, the best average customer satisfaction was achieved by HTC with a rating of 1.47, followed by Apple (1.45) and Nokia (1.35).
Have the high customer satisfaction of Windows Phones helped you recommend phones running the OS to friends and family? Let us know below.