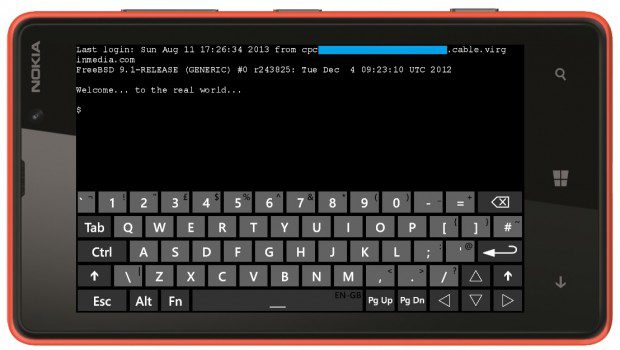 PuTTY is a free implementation of Telnet and SSH client for Windows and Unix platforms and a developer is working to port this client for Windows Phone devices. He revealed on Reddit that SSH handshaking is working successfully and he is currently implementing a custom keyboard as well.
Here is the message he posted on Reddit,
So some good news for you, this wasn't one of those times! I've successfully porting the base code for PuTTY to WP8 (sorry, can't do it for WP7). It's connecting to my server doing all of the SSH handshaking that you would expect and logging in perfectly fine!

The keyboard in the screenshot is something that I knocked together taking inspiration from Hacker's Keyboard for Android. The keys are smaller than on the standard keyboard, but it is still usable once you get used to it. I'm not sure if a custom keyboard will pass Microsoft's scrutiny. I hope that they see it as required functionality.

Beta testing it still a little way off, but drop me an email at (putty at nogsnet.com) with your Microsoft email and I'll let you know when the beta is ready.
Source: Reddit