Picture via Engadget.com
Microsoft has invited journalists to a mysterious event on the 12th April. Not revealing much, the invite merely mentions that "It's time to share."
Ina Fried from CNET has however been able to confirm that the event will the the official unmasking of the Project Pink handsets which are expected to be released very soon on Verizon.
The handsets, with its emphasis on social networking are expected to be slider feature phones and replacements for the SideKick handsets available on T-Mobile.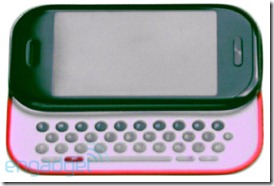 Read more at CNET here.