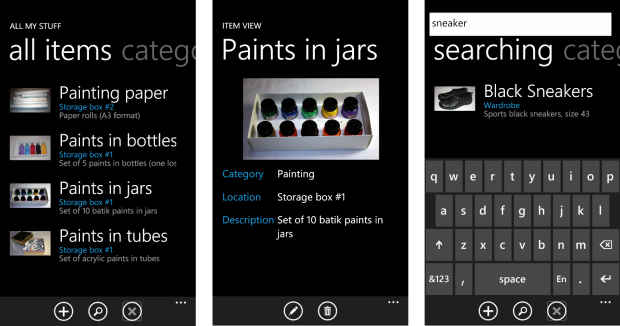 Productivity Scientific is pleased to announce the release of ultimate organizing software All My Stuff for Windows Phone 7 platform.
All My Stuff is the perfect personal inventory keeping software. Keep inventory of items of any kind (CD/DVD disc, books, clothing, computer software, instruments etc.) All My Stuff is also great to track items you've lent to other people or archived to storage boxes, create wish or shopping lists.
All My Stuff is pretty simple in use – just add an item to collection, use camera to take a photo of it, download an image from the Internet or leave it default. Then give it a title, short description, choose category and location. Whenever you need it, browse or search your collection of stuff to find something required or just remember what you have and where it is.
You can find All My Stuff in Windows Phone marketplace by clicking this link.
About Productivity Scientific:
Productivity Scientific is a small but actively developing startup formed by scientists and computer professionals to work in fields of productivity, time management and Getting Things Done (GTD). The mission of the company is to change the way how people live and work, how they use and organize information and how they spend time.
Website: productivityscientific.com