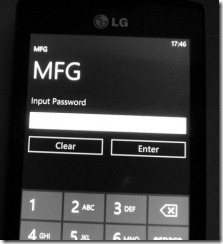 There are in fact a population of users who are reluctant to get the NoDo update for their Windows phone 7 handsets. 
This people are the ones who make extensive use of the Homebrew apps  now available out there. The NoDo update fixes the hack which enabled handsets to be developer unlocked without of course being developer handsets.
If those readers have am LG Optimus 7 they will be in luck then, as Yakkaimono on XDA- Developers have discovered the MFG hack on the LG Optimus 7 is still working perfectly fine, allowing XAPs to be deployed to the handset.
Instructions on how to MFG unlock your handset can be found here.
Thanks paspals for the tip.