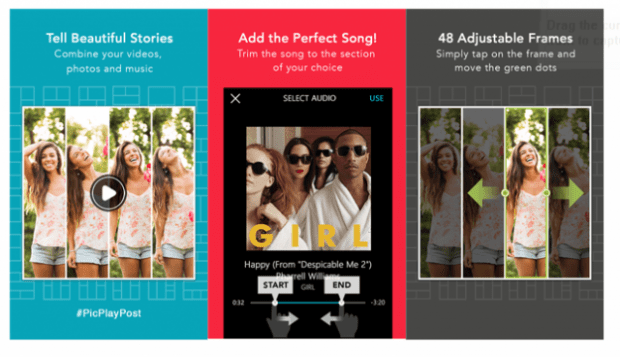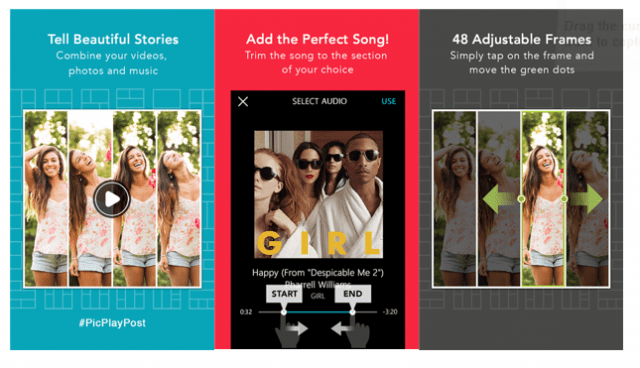 PicPlayPost is a simple and easy way to create captivating stories with your photos, videos, GIFs and music. It is a popular mobile app and used by millions including Starbucks, Mashable, ABCFamily, UFC, A-list celebrities, around the world. PicPlayPost is now available for download from Windows Phone Store.
Key Features:
Create video collages with photos, GIFs, and videos (up to 1 min per video)
Personalize your video collage with your own watermark and color fonts
Access Music downloaded to your device (internal storage, SD card, etc)
Trim the segment of the video or song you want to import
48 fully adjustable frames
72 stunning background patterns
Create #MusicPhotos by adding music to a static image(s)
Create video collages with a variety of frames ratios: 1:1, 2:3, 3:2, 4:3, 3:4, 16:9 ratios
Support free (any angles) rotation of image/video inside frames.
Change border width and add rounded edges
Supports Windows Phone 8.1
Share your story via social media (Facebook, Vine, WhatsApp), Email, SMS, etc.
Help/FAQ section. Many issues you encounter can easily be resolved
by reviewing the Help/FAQ
Download PicPlayPost for free from the Windows Phone Store.