Alongside Pokemon Go, Prisma has been one of the most popular apps recently. Prisma is yet another phot-editing app that lets you apply filters — however, the app includes some unique filters which allows you to turn your photos into…artworks! Prisma actually uses artificial intelligence and neural networks to achieve this kind of effect. The app got a lot of positive reviews on iOS, and it's apparently bringing its Windows 10 app this month. When a user asked if the company has plans ot bring its app to Windows 10 devices, a representative simply stated "will be out in July." Of course, we are already in July, so we're assuming the app will be available later in July.
Prisma transforms your photos into artworks using the styles of famous artists: Van Gogh, Picasso, Levitan, as well as world famous ornaments and patterns. A unique combination of neural networks and artificial intelligence helps you turn memorable moments into timeless art.
Here is a screenshot of the email: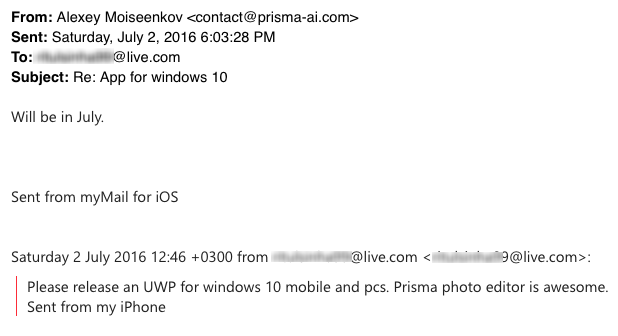 Prisma will likely use Project Islandwood to bring its iOS app to Windows 10, but they could be working on a native app for Windows 10 devices. It is worth noting that the company doesn't have an official app for Android yet. For now, we don't really know much about app, so we'll let you know when the app is available for Windows 10.