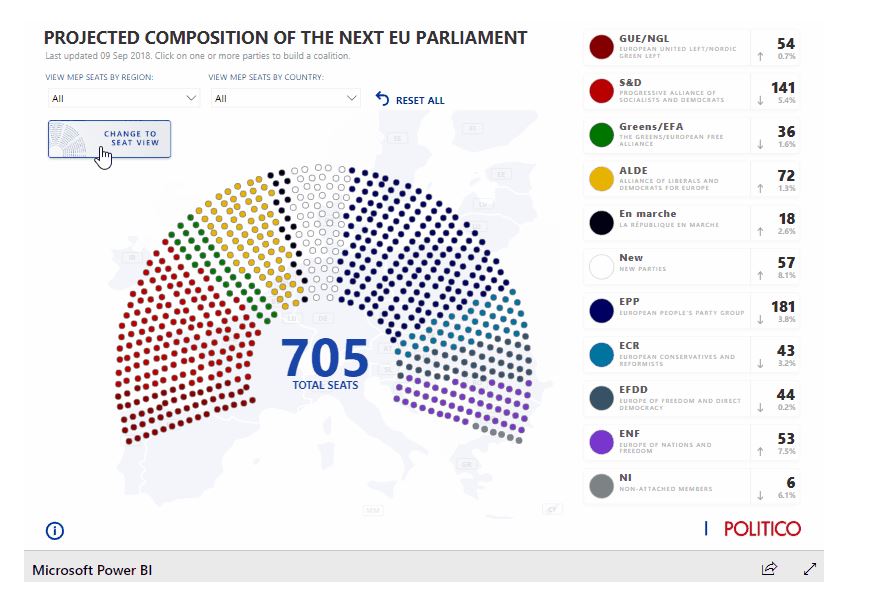 POLITICO Europe, one of the most influential publication on European affairs, is partnering with Microsoft to transform the election tracking experience for its readers. The European Parliamentary elections spans thousands of candidates and hundreds of parties across the EU's 27 member nations. POLITICO Europe has built a new Elections hub with a stunning interactive data visualization powered by Microsoft Power BI.
With the new Elections hub, here's what you can expect:
You can explore a detailed, graphical, interactive view of the projected makeup of the 9th European Parliament in a way that has never previously been possible.
Currently based on the latest results of national polls, the visualization will update with live election results on May 23-26, 2019, as those actual election results become known, and will ultimately show the new makeup of the Parliament.
In addition to a traditional "seating chart" view, the interactive visualization also enables readers to view MEP seats by region or country, making it simple and fun to learn more about the election and political parties that comprise the Parliament.
"Visualizing the election will make it a more meaningful event for our readers, showing them during nine months where the election is headed, and how they compare to their neighbors," said Ryan Heath, Political Editor at POLITICO, leading this project for the newsroom. "We're encouraging readers to adopt a new way of thinking about the European Union, one where we all see beyond our borders, and want to match this new way of thinking with new ways of discovering and exploring the latest news and facts at a personal level."
You can check out the new POLITICO's European Elections hub here.
Source: Microsoft