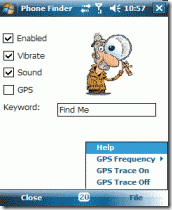 Leesoft has written an app which should make it easy to locate your phone, no matter where it is, simply by sending a SMS message.  
If your phone is hiding behind the couch Phone Finder will vibrate or play a sound, and for when its further afield the app supports GPS tracking.
Download it from FreewarePPC here or simply type this URL in your mobile browser: tinyurl.com/mhm2c8
Via Mobiletopsoft.