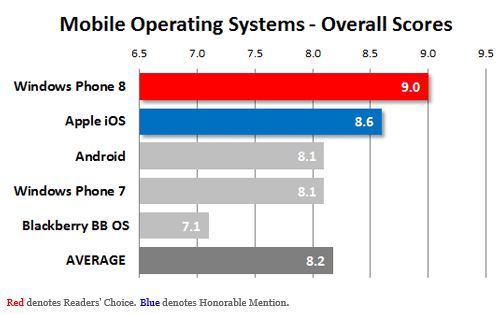 PCMag today announced the results of its PCMag Readers' Choice Awards 2013. There were three main categories on which which PCMag.com readers were surveyed. They are Mobile OS, Smartphones ( By Carriers) and Mobile Carriers.
Under mobile OS category, Microsoft's Windows Phone 8 won the award.
 All eyes may be on Apple and Google these days, but Microsoft has delivered a mobile platform–Windows Phone 8, that bests both of those companies in user satisfaction. It delivers to its users on nearly every aspect of the mobile phone experience.

You might argue that Microsoft's ratings are so high because the platform is new and satisfaction with products tends to wane over time as products become dated. That's fair, but even when we look at satisfaction with devices less than a year old, Windows Phone 8 leads the way
Another interesting element was looking at the reasons why Windows Phone users chose phones running the OS.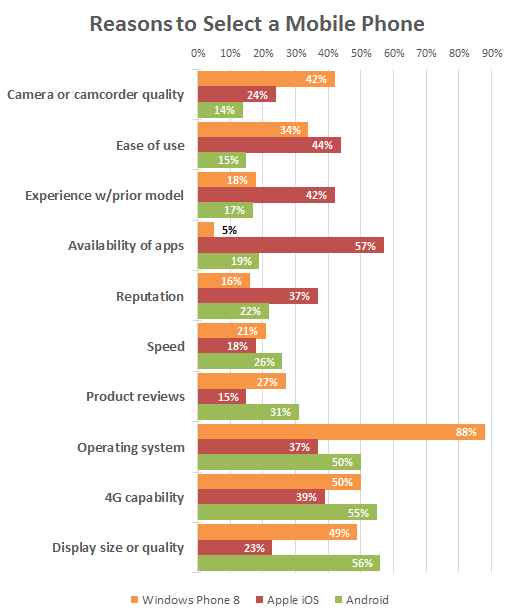 It appears more than for any other phone OS the OS it self was the main attraction, ticking the box for 88% of users. With phones like the Nokia Lumia 920 camera quality also scored pretty high, with 42% of users.  Display size and quality, the presence of 4 G and ease of use also scored pretty high.
Under Smartphones (by carriers) category, Nokia Windows Phone 8 device on AT&T won the award.
Nokia (for Windows Phone 8 devices on AT&T):
Nokia gambled on the Windows Phone platform, and so far it's paying off for customers. It delivered, by far, the best satisfaction ratings in our survey
It is sad to see no other Windows Phone was listed under Verizon and T-Mobile network's smartphone winners list which shows the lack of flagship devices. I guess Nokia is trying to solve this problem by releasing the Lumia 928 under Verizon.
Source: PC Mag