Is Copilot the best AI companion out there? Help us find out by answering a couple of quick questions!
Can't determine the difference between PC fan intake vs exhaust direction? You're not alone in this.
Usually, manufacturers of branded desktop computers properly handle ventilation so you don't have to worry about it. However, when you're building a custom high-performance or gaming PC, you'll have to do it by yourself.
You can't do that without knowing which side of a PC fan blows air inside or outside. Luckily, I can help you out with that!
PC Fan Intake vs Exhaust – What's the Difference?
PC fans come in two variants: intake and exhaust. Let's see what's their purpose and what makes them different from each other.
Intake PC Fans
Intake system fans draw in cool and fresh air and force it into the computer case. They provide a steady supply of ambient air to crucial system components like the CPU, SSDs, RAM, GPU, motherboard heat sinks, and so on.
You'll always find intake fans at the front or lower side of the PC case. These fans ensure that your device doesn't throttle performance due to a hot internal environment.
Exhaust PC Fans
As the name suggests, exhaust PC fans are there to prevent the build-up of hot air in your CPU tower. Internal components like GPUs, CPUs, RAMs, etc. generate a lot of hot air. An exhaust system fan expels this heat out of the PC case to maintain a balance of hot and cold air.
Intake vs Exhaust Computer Fans: A Summary Table
| | Intake Fans | Exhaust Fans |
| --- | --- | --- |
| Purpose | Push cool air into the case | Expel hot air out of the case |
| Placement | Front or bottom of the case | Rear or top of the case |
| Direction of Airflow | Inward (toward internal components) | Outward (away from internal components) |
| Temperature Control | Cools internal components | Prevents heat buildup in the case |
| Component Cooling | Cools CPU, GPU, motherboard, etc. | Expels heat generated by all PC components |
| Dust Infiltration | Can bring in external dust | Helps prevent dust buildup inside the case |
How To Know If My PC Fan Is Intake or Exhaust?
There are technical and non-technical ways of determining what kind of computer fan you have. Here's how:
Solution 1: Inspect the Placements of PC Fans
In a branded desktop PC, the intake fans are always at the front and bottom of the CPU tower. Similarly, the exhaust fans are always on the top or at the back of the case.
Solution 2: Determine the Blowing Direction
Here's the best way to segregate intake fans from exhaust fans in your desktop PC:
Light up an incense stick.
As the smoke starts to come out, hold it near the PC fan.
If it attracts the smoke, it's an intake fan.
If it blows smoke away from it, it's an exhaust fan.
Solution 3: Inspect the Curvature of the Fan Propeller
You can also easily distinguish an intake fan from its exhaust counterpart by inspecting the shape of the fan blades.
If the blades seem curved away from you or rounded or convex, that's the intake side.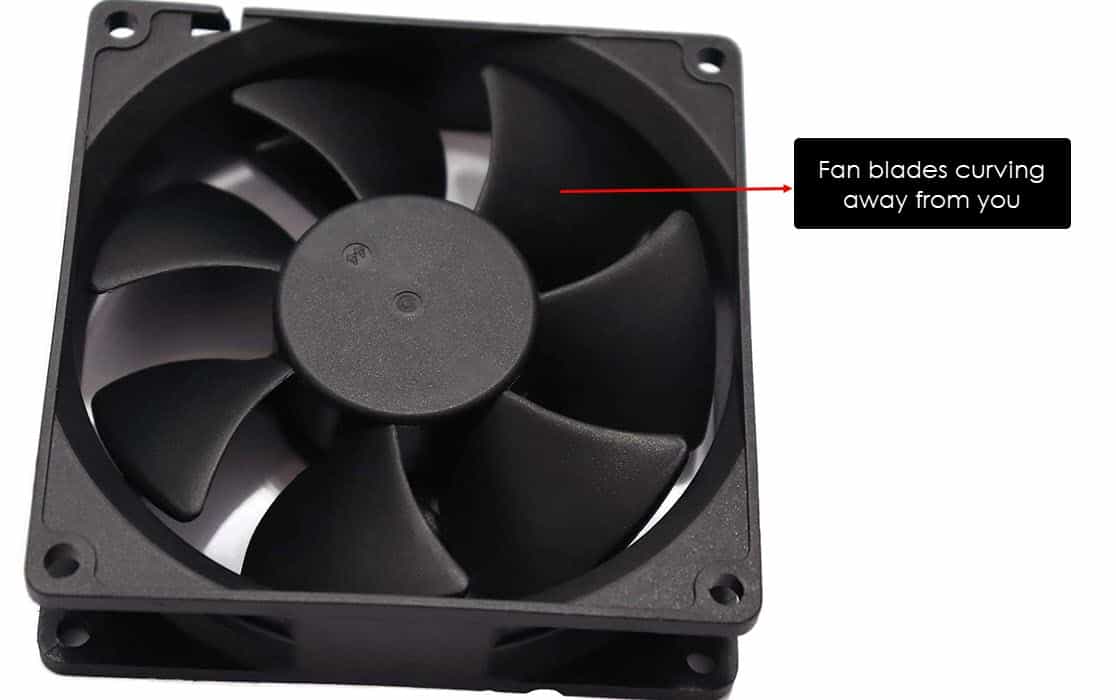 Contrarily, the blades are flat or curved towards you on the exhaust side.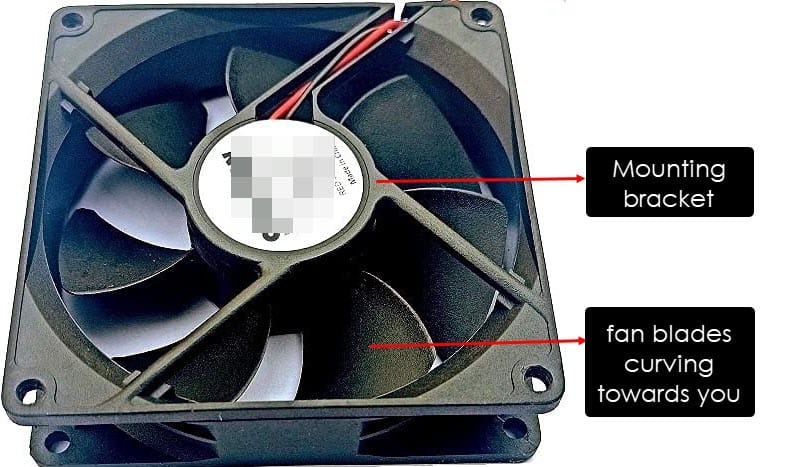 Solution 4: Read the Manufacturer's User Manual
Most PC fan bundles come with user manuals. Read the manufacturer's instructions carefully to identify the intake and exhaust side, and how to install it properly.
User manuals also explain:
Whether the fan blades move clockwise or anti-clockwise
The direction of the airflow
Whether you need to install it facing the motor-mounting bracket towards you or away from you.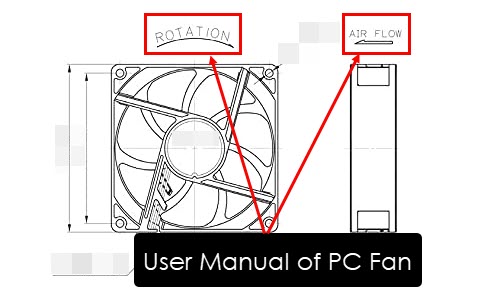 Should My PC Fans Be Intake or Exhaust?
You must create a balance between the installed intake and exhaust computer fans. If your PC case comes with filters, you should install at least one intake fan more than the exhaust fans to create positive air pressure.
This technique helps you keep the internal PC components free of dust. For example, if there are 5 fans in total, you can have 3 intake ones and 2 exhausts.
Which Side of a PC Fan Is Intake?
The side of a computer fan that has curved or round-shaped fan blades is the intake side. Manufacturers often fix a brand sticker on this side.
Also, the intake and exhaust of a PC fan also depend on the direction of rotation. Intake fans will rotate counterclockwise by default.
Can I Use the Intake Fan as an Exhaust?
You can always use an intake fan as an exhaust. However, this isn't recommended because of the following reasons:
Intake fans won't deliver the hot air-expelling and cooling performance you need.
You must use custom fan mounting accessories to properly adjust them as an exhaust.
The dust build-up might increase.
Is It Okay To Have 5 Intake Fans and 1 Exhaust?
You shouldn't significantly imbalance the numbers of intake and exhaust fans in your computer case. Here's why:
A higher number of intake fans increases the positive air pressure inside the PC case. This can impair the hot air dissipation system of the PC.
Hot air will build up inside the PC case rapidly as you reduce the computer case's exhalation capacity.
Conclusion
If you place the fans in the wrong direction, your PC will suffer from heat-induced performance throttling. So, if you're doing something resource-heavy or gaming, you might notice stuttering. Your PC might even turn itself off if it gets too hot.
But now that you know the difference between PC fan intake vs exhaust, you'll be able to install them correctly. Feel free to share any tips in the comments below!