Have you been looking for an instant messaging application that is not only simple to use but also has a UI similar to a desktop experience? Palringo may be the solution you have been waiting for. After having a look at several different IM clients, I recently added this application to my Fuze and could not be more satisfied. Let us take a bit of a closer look.
Adding Palringo to my phone OTA was a breeze. The first step was to sign up for a Palringo account for the bargain basement price of….FREE. I then entered my phone number, clicked send and was sent the download link straight to my handset via SMS. When I began the download, Palringo instantly recognized the model number of my device and after only having to enter my log in information the first time, my MSN Messenger contacts were instantly synced and I was sending IM's within sixty seconds. I was impressed. I found the UI very straight forward, easy to figure out and a pleasure to use.
Although I only use MSN Messenger, Palringo is a multi-platform IM client that also supports AOL's AIM, Google Talk, Yahoo! Messenger, Gadu Gadu, ICQ and Jabber. All of this in one easy to use interface which eliminates the need to constantly be switching between different IM applications. Pretty cool right? It gets better. Palringo also allows users of these different IM services to exchange not only picture messages, but voice messages as well. Although my own taste is to keep things pretty basic when using such a utility, it is great that these options exist for the IM junkies out there. Below I have added some screenshots of Palringo running in portrait mode and one in landscape mode.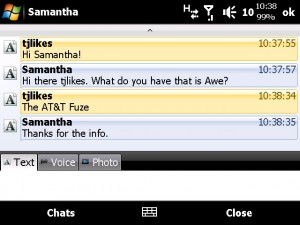 When switching from portrait to landscape mode by sliding the keyboard open, the transition was fast and I have not experienced any errors doing so. Palringo offers up quite a bit. The ability to use several different IM services coupled with picture and voice capability, all in a package that is simplistic in nature and able to be figured out in just a few short minutes.
With more people using their mobile devices as a lighter, more compact alternative to carrying their laptop, but not wanting to surrender the functionality that a notebook computer provides, it is software like Parlingo that helps to make that possible. This is by far the most user friendly IM application that I have used to date. If you rely on instant messaging as a way of staying connected to friends, family or for professional purposes, I highly recommend giving Palringo a shot at becoming your go to IM client. For more information on Palringo or to download to your Windows Mobile device, stop by their site located here.