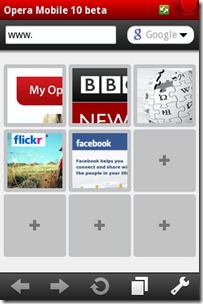 With the first beta versions of Opera Mobile 10 released in November, Opera is making quick progress in adding features and improving performance on its powerhouse mobile browser. Opera Software continues to improve its Opera Mobile 10 browser for Windows Mobile with the release of an upgrade to its latest beta (beta 2). This critical step towards the final version of Opera Mobile 10 includes several updates aimed at improving the user experience.
Localization for Hebrew and Arabic-speaking regions was prioritized in the Windows Mobile version, and the update brings the following improvements:
Support for Hebrew and Arabic Web sites. Right-to-left rendering now works on Opera Mobile 10.
Faster loading. When the Opera icon is pressed, watch out for even faster loading of the browser.
Increased auto-rotation support. More phones now support auto-rotation.
Said Jon von Tetzchner, CEO, Opera Software:
"With each of our beta releases, we put users first. Their needs are our first priority, which is why it was important for us to add bi-directional language support and the ability to input native characters, such as Chinese, into the browser," "There are millions of Hebrew, Arabic and Chinese speakers out there, and we want to make sure that Opera works seamlessly for them, allowing them to surf the Web within the comforts of their native language."
Opera Mobile can be downloaded from this page or directly via this link here.
Via Unwiredview.com