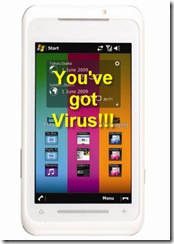 The TG01 is not having a terribly good time of it recently.  First the device has not exactly seen rave reviews, now sales in Germany have been halted completely due to the device being shipped with a virus pre-installed.
It is not known if it is a Windows Mobile virus or (more likely) a desktop virus present on the machine doing the firmware flashing, but it apparently affects only a small number of devices.  Toshiba is working on a fix.
Read more at Inside-handy.de.
Via unwiredview.com